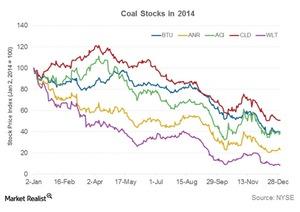 Arch Coal loses 11% in 4Q14, a whopping 62% in 2014
By Mike Sonnenberg

Mar. 2 2015, Published 10:59 a.m. ET
How did stocks perform in 2014?
Before we move on to Arch Coal, Inc.'s (ACI) operational and financial performance for 4Q14 and full year 2014, let's find out how the company and its peers performed on the stock exchange during those periods.
Article continues below advertisement
2014: The year of the coal rout
It was a tough year for coal companies in 2014. The year started off well with an unusually colder winter, but the momentum didn't last long. The U.S. Environmental Protection Agency's new set of regulations for coal fired power plants, the rise in natural gas production, and the decline of seaborne demand were just some of the factors that contributed to the eventual fall in coal stocks.
While the broad based iShares Russell 3000 ETF (IWV) gained 11% during the year, Arch Coal (ACI) lost 62%. Alpha Natural Resources (ANR) dropped 77%, and Peabody Energy (BTU) fell more than 60%. Even Cloud Peak Energy (CLD) lost half its value. Only Westmoreland Coal Company (WLB) was able to buck the trend with a 71% gain.
Slide continued in 4Q14
The slide in coal stocks continued in 4Q14 as warmer weather undermined the demand for energy commodities. A part of the slide was attributable to the fall in oil prices, which made energy stocks plummet. Natural gas prices remained pressured throughout the quarter and fell to around $3 per million British thermal units (or MMBtu) by the end of quarter.
Arch Coal (ACI) lost 11% in 4Q14 but performed better than its peers. BTU fell 35% during the quarter, while ANR dropped 27%. Even WLB lost 12% during the quarter.
With this, let's move on to Arch Coal's (ACI) performance in its Appalachia segment in 4Q14 and full year 2014.