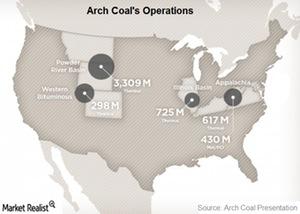 Arch Coal: Most diversified US coal producer
By Mike Sonnenberg

Mar. 2 2015, Published 10:59 a.m. ET
Diversified coal producer
Among major coal producers (KOL) in the United States, Arch Coal, Inc. (ACI) is probably the most diversified in terms of geographical and product profile. The company produces both met and thermal coal. Arch Coal is part of the SPDR S&P Metals and Mining ETF (XME) and the iShares Russell 3000 ETF (IWV).
Arch Coal has a presence in the following four major US coal producing regions:
Appalachia (seven active mines)
Illinois Basin (Viper mine)
Powder River Basin (Black Thunder and Coal Creek mines)
Western Bituminous Region (West Elk mine)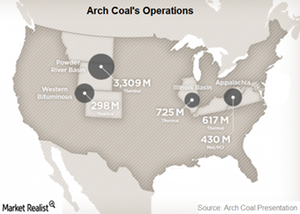 Article continues below advertisement
Mining operations
In Appalachia, Arch Coal has 617 million tons of thermal coal reserves and 430 million tons of met coal reserves. In the Illinois Basin, the company has 725 million tons of thermal coal reserves.
Arch Coal is the second-largest reserve holder in the Powder River Basin after Peabody Energy Corporation (BTU) with reserves of 3.3 billion tons. Arch Coal operates two surface mines in the Powder River Basin, eight surface and underground mines in Appalachia, and one mine in each of the remaining two regions. The West Elk mine and the Viper mine are together referred to as the Bituminous Thermal segment.
Export facility
Arch Coal also holds 38% in the proposed and also controversial Millennium Bulk Terminals in the state of Washington. From this location, Powder River Basin producers such as Arch Coal and Cloud Peak Energy (CLD) plan to ship coal to Asia.
Before we get down to Arch Coal's (ACI) financial and operational performance in 4Q14 and full year 2014, let's have a look at the overall stock market performance for coal companies for those periods.