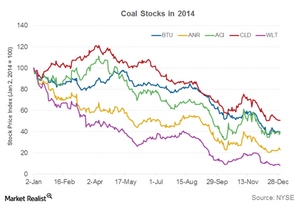 Arch Coal and Alpha Natural Resources reduced to penny stocks
The US coal industry
The US coal industry is going through a rough patch, especially since the turn of the decade. Domestic demand is hurt by the shale gas boom and by U.S. Environmental Protection Agency regulations that require power plants to reduce emissions. The global market is also battling oversupply and slowing global growth. On the top of this, governments around the world are revising their energy policies to boost the use of cleaner fuels.
American coal is at a disadvantage when it comes to exporting coal to high-demand countries in Asia. Four of the top five coal-producing countries in the world are located in the region or in surround regions. As a result, coal stocks are on a decline.
Article continues below advertisement
ANR and ACI turn into penny stocks
Last week, two highly leveraged coal producers (KOL), Alpha Natural Resources (ANR) and Arch Coal (ACI), were reduced to the status of penny stocks. Alpha Natural Resources (ANR) dropped 13.6% during the week to $0.95. Arch Coal (ACI) dropped 22.1% to end the week at $0.88.
ANR and ACI joined Walter Energy (WLT) on the penny coal stocks list. Walter Energy closed the week at $0.34 after a mammoth 62% drop.
Other coal stocks drop, too