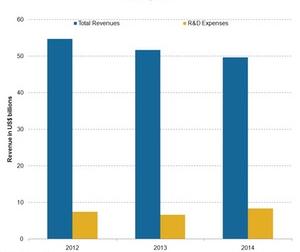 Analyzing Pfizer's Research and Development
By Mike Benson

Apr. 1 2015, Updated 5:05 p.m. ET
Exploring R&D at Pfizer
Research and development, or R&D, is the most crucial part of business for large pharmaceutical companies like Pfizer. These expenses relate to the process of discovering, testing, and developing new products. The expenses also include improving the existing range of products. The expenses ensure product efficacy and regulatory compliances prior to the launch.
Pfizer's (PFE) R&D expenses were $8.4 billion in 2014, $6.7 billion in 2013, and $7.5 billion in 2012.
Article continues below advertisement
Existing pipeline
The company conducts the research internally and through contracts with third parties, collaborations with universities and biotechnology companies, and in cooperation with other pharma companies.
As of December 31, 2014, the company had 298 projects in R&D. The projects range from discovery through registrations. From these, 86 programs are in Phase 1 through registration. Testing is carried out on healthy volunteers for dose ranging and checking drug efficacy. The remaining projects are in pre-clinical development. The testing is carried out on non-human subjects to check efficacy and toxicity. There are 23 programs in Phase 3. The drugs are tested on patients for efficacy, effectiveness, and safety. Phase 3 also determines the drug's therapeutic effects.
The company competes with large pharmaceutical and small biotechnology companies for developing the potential drugs. Once a drug is developed by a competitor, it may erode the sales of existing products as well as products being developed.
In 2014, Teva Pharmaceutical (TEVA) lost exclusivity on Copaxone, AstraZeneca (AZN) lost exclusivity on Nexium, Merck & Co. (MRK) lost exclusivity on Nasonex, and Eli Lily and Co. (LLY) lost exclusivity on Evista. Johnson & Johnson (JNJ) forms 0.75% of the iShares US Healthcare ETF (IYH).