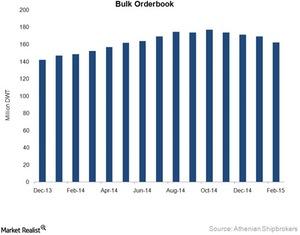 Analyzing Dry Bulk Vessels' Orderbook, Supply, and Slippage
By Katie Dale

Updated
Orderbook
In 2014, the newbuilding orderbook for dry bulk carriers reported 746 orders—145 Panamax vessels, 132 Capesize vessels, and 19 VLCCs (very large ore carriers)—Diana Shipping's (DSX) management commented.
As of February 1, 2015, there was 162.7 million DWT (deadweight tonnage) on order. This represented 21.4% of the existing dry bulk carrier fleet. Of this total, the Capesize vessels on order represent a 69.1 million deadweight equivalent or 22.3% of the existing Capesize fleet. As for Panamax vessels, there are 44.9 million DWT on order. This represents 16.7% of the existing Panamax fleet.
Article continues below advertisement
In the Handymax sector, a weak 26.8% of the existing and relatively modern fleet is in order. Deliveries of all types of bulk carrier newbuildings are mainly concentrated in 2015—except for the Capesize vessels that are in 2016. This indicates that 2015 will likely bring in a fresh supply of vessels. This will impact the value for all types of vessels—except Capesize.
Vessels supply and slippage
According to banchero costa, on the supply side, the newbuilding delivery in 2014 amounted to 514 vessels—equivalent to 48.1 million DWT. The Panamax and Post-Panamax fleet is expected to grow by 6% this year. The fleet is only expected to grow by 3% in 2016. The Capesize and the VLOC (very large ore carrier) fleet is expected to grow by 6% in 2015 and 2016.
The Handymax fleet is expected to grow by a massive 12% in 2015 and 6% in 2016. Total deliveries in 2015 are expected to reach ~61 million metric DWT. This includes ships that had been scheduled for delivery in 2014, but have been delayed.
Article continues below advertisement
According to banchero costa, slipping deliveries during 2014 were around 20%. So far in 2015, due to delayed deliveries from 2014, 127% of the order book has been delivered—compared to scheduled deliveries. This percentage will undoubtedly go down as the year progresses, but it isn't likely that the slippage will exceed 20% during 2015. Slippage indicates the number of vessels with orders that weren't executed in the desired period. As a result, the orders will be transferred to the next period.
The orderbook statistics have a significant impact on companies like DryShips
(DRYS)
, Navios Maritime Holdings
(NM)
, Safe Bulkers
(SB)
, and Navios Maritime Partners
(NMM)
. The iShares S&P 500 Index ETF
(IVV)
invests in sectors like consumer non-cyclical, financial, energy, technology, communications, industrial, consumer cyclical, basic materials, and utilities.