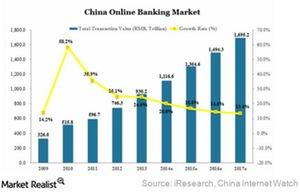 Alibaba Forays into Online Banking
By Patricia Garner

Mar. 26 2015, Updated 1:06 p.m. ET
Alibaba will set up an online private bank
Alibaba (BABA) closed its restructuring relationship with Ant Financial Services Group last month. Ant Financial, formerly known as Small and Micro Financial Services Company, is the parent company of Alipay and is focused on serving small and micro enterprises, as well as individual consumers.
As a part of this restructuring, Alibaba agreed to sell its small and medium enterprise (or SME) loan business and other related services to Ant Financial. After this restructuring, Alibaba plans to make an entry into online banking to compete against its biggest rival in Internet business, Tencent Holdings (TCEHY).
Zhejiang-based Ant Financial Group will set up the Zhejiang Internet Commerce Bank (or ZICB), or Alibaba Bank. Alibaba Bank and Tencent's (TCEHY) WeBank each received approval from China's Banking Regulatory Commission (or CBRC) in March of last year to open up a private bank.
Alibaba Bank plans to begin its operations in May or June of this year. Alibaba Bank is part of a proposed plan to foster the development of private banks.
Article continues below advertisement
Ant Financial Group hasn't revealed what kind of services the new Alibaba Bank will offer, but Ant Financial vice president said that the bank is in talks about offering services for remotely held accounts. Also, Alibaba Bank will not have offline outlets and would not offer cash-related services. Instead, it will conduct individual credit checks online and provide online banking services.
Tencent launched WeBank in December
Tencent also launched the website of its private e-bank, WeBank, in December of last year. Tencent owns 30% of WeBank, while investment firms Baiyeyuan Investment and Liye Group each own 20%. Seven other private investors control the remaining 30% of WeBank, which has registered capital of about $480 million. Visitors to the website see a bar code, a setup indicating that WeBank expects to get clients via mobile devices.
According to iResearch, China online banking transaction value reached 116 trillion renminbi with an increase of 20% in 2014. The China online banking market will continue its rapid development, though its growth will slow down.
The performance of ETFs investing in Chinese equity, like the iShares China Large-Cap (FXI), the iShares MSCI China (MCHI), and the SPDR S&P China (GXC), which invest in stocks of Chinese companies like China Life Insurance Company (LFC) and PetroChina Company Limited, indicate the health of the Chinese economy.
Investors can gain portfolio exposure to Chinese stocks by investing in ETFs such as the iShares China Large-Cap ETF (FXI). The financial services sector makes up 39% of the ETF's portfolio. Another ETF to consider for investing in Chinese stocks is the iShares MSCI China ETF (MCHI), which has about 30% of its portfolio invested in the financial services sector in China.