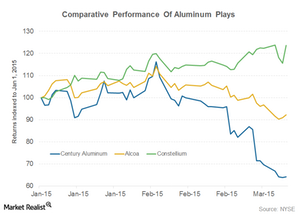 Watch these key aluminum indicators if you're an Alcoa investor
By Mohit Oberoi, CFA

Updated
Aluminum industry indicators
Aluminum is the second most widely used metal after steel. Investors have a special liking for aluminum. They can play the aluminum industry by trading aluminum on commodity exchanges or by investing in aluminum plays.
Aluminum is the most widely traded metal on the London Metal Exchange. Its low density and resistance to corrosion make it a very important metal that a lot of industries use.
Article continues below advertisement
Recent performance
The aluminum industry had a decent run in 2014. Aluminum plays delivered solid performances on Wall Street last year. The aluminum industry has been a standout among commodity plays. This is unlike other metals such as steel and iron ore. The price of iron ore, for instance, plummeted by nearly 45% last year.
However, 2015 has started on a somber note for the aluminum industry. The above chart shows the 2015 stock market performance of aluminum producers. Alcoa (AA) is down ~8% year-to-date. Century Aluminum (CENX) has lost ~40% of its market capitalization so far. However, Constellium NV (CSTM) has bucked the trend. Its share price is up by more than 20% so far in 2015.
What's in this series?
In this series, we'll look at the key aluminum indicators and how they're shaping up. We'll see the movement in aluminum prices and physical premiums. Movement in aluminum prices directly affects revenues of aluminum producers such as Rio Tinto (RIO).
We'll also see how the demand and supply equation in the aluminum industry is shaping up. We'll also discuss how Alcoa's transformation is playing out in 2015. Currently, Alcoa forms 3.30% of the Materials Select Sector SPDR (XLB).
In the next part, we'll look at the movement in aluminum prices.