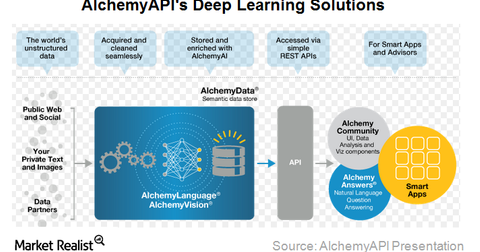 AlchemyAPI Acquisition Will Empower IBM's Watson
By Anne Shields

Updated
IBM's Watson is an important offering in the big data space
IBM's (IBM) Watson is a cognitive computing system that analyzes large volumes of data, understands complex questions posed in natural language, and proposes evidence-based answers, which are the core elements of cognitive computing and deep learning.
IBM offers Watson services through the Watson Zone on Bluemix. Bluemix is a Cloud Foundry-based platform that enables developers to build, deploy, and manage apps across the cloud space. As of now, Watson has powered over 7,000 apps. For example, an app on IBM Bluemix could potentially translate the data feed from Twitter (TWTR) and normalize the input into English.

To gain diversified exposure to IBM, you can invest in the iShares US Technology ETF (IYW) and the Technology SPDR ETF (XLK). IYW and XLK invest about 4.2% and 3.51% of their holdings in IBM, respectively.
Article continues below advertisement
AlchemyAPI acquisition will expand Watson's ecosystem
IBM stated that integration of AlchemyAPI into the Watson platform is bound to "augment Watson's ability to quickly identify hierarchies and understand relationships within large volume data sets." Also, the acquisition is intended to improve and sharpen Watson's ability to take in, train, and learn the "long-tail" of data domains that include both general business and target industries.
By acquiring AlchemyAPI, the IBM Watson developer community will now have access over 40,000 developers who previously developed apps for AlchemyAPI.
AlchemyAPI's software platform processes billions of API calls per month. It is used across 36 countries and in eight different languages: English, French, German, Italian, Portuguese, Russian, Spanish, and Swedish. API is the technology that allows Facebook (FB) to pick photos from Instagram.
New API tools launched for Watson
In February 2015, IBM added five new API tools to the Watson Developer Cloud. These tools include speech recognition, synthesizing natural-sounding language of the text, image recognition, concept insights, and tradeoff analytics. Concept insights aim to improve search results while tradeoff analytics allow for choosing optimal outputs when multiple conflicting goals are present.
By investing and developing in Watson, IBM has made a strategic shift to deliver a new class of software, services, and apps that are able to think, improve by learning, and discover insights from big data.