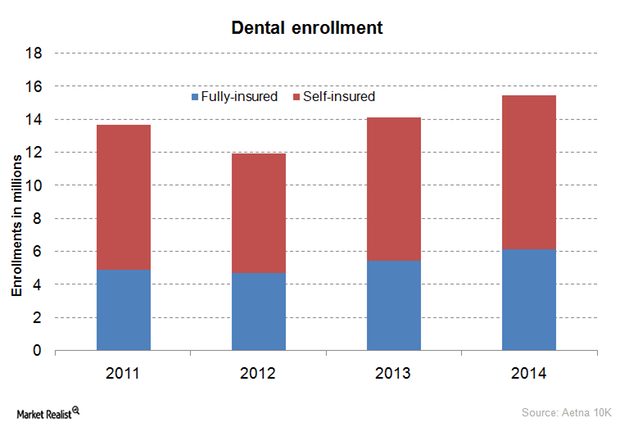 Aetna's Strategy for Its Specialty Insurance Business
By Margaret Patrick

Mar. 16 2015, Updated 4:34 p.m. ET
Specialty health insurance
Aside from the standard healthcare policies, players in the private health insurance industry also offer specialty insurance. This type of insurance focuses specifically on dental, vision, disability, and critical illnesses such as cancer, heart attack, and renal or kidney failure. Members who are more prone to critical illnesses tend to buy specialty insurance.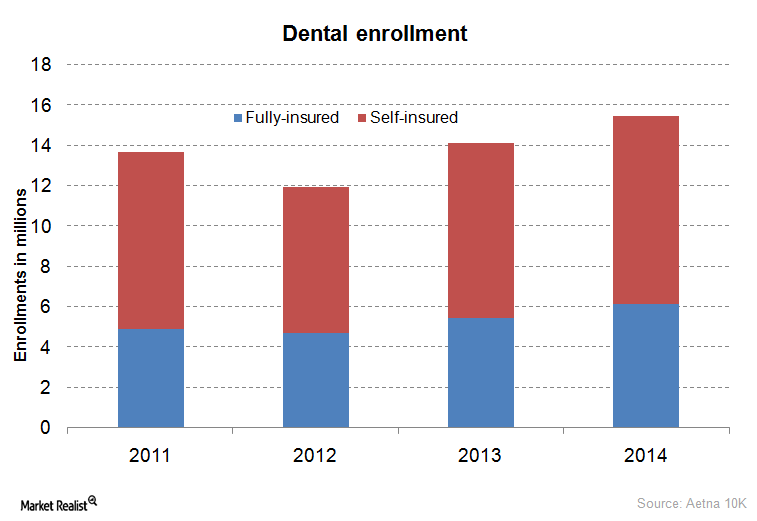 The above graph shows Aetna's dental plan enrollments, divided into the fully insured and self-insured categories. Aetna offers dental benefits to federal employees under the Federal Employees Benefits Program and the Federal Employees Dental and Vision Insurance program. Both the premium rates for fully insured dental plans and fees for self-insured dental plans are subject to federal government review and audit. In fully insured plans, the health insurer assumes responsibility of future claims while in self-insured plans, it is the responsibility of the plan sponsor.
In addition, Aetna also provides behavioral health and vision coverage, though the enrollments are substantially lower than those in dental plans.
Article continues below advertisement
Dental insurance
Health insurance companies (XLV) provide specialty insurance services through managed care offerings such as HMO (health maintenance organization) or PPO (preferred provider organization).
DMO (dental maintenance organization) is Aetna's HMO offering for dental benefits. It is similar to an HMO and provides cost-effective dental care through a primary care dentist. PDN (participating dental network) is Aetna's PPO offering for dental services, which provides access to a larger number of dentists than the DMO, but at a higher cost. To find out more about HMO and PPO, please refer to Your must-read guide to health insurance managed care plans.
Retail distribution    
Private insurance companies such as Humana (HUM), Aetna (AET), Cigna (CI), and UnitedHealth Group (UNH) also cater to the individual segment and use a retail distribution model, consisting of public and private exchanges, and kiosks in major retail shops, to directly sell specialty plans to potential customers.