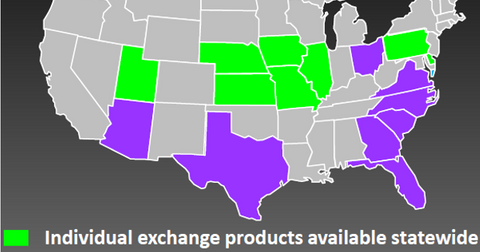 What Is Aetna's Strategy for Its Individual Insurance Business?
By Margaret Patrick

Updated
Individual insurance
The ACA (Affordable Care Act) requires that states set up online public health insurance exchanges to enable individuals to select health plans that suit their coverage needs. The CBO (Congressional Budget Office) has projected that by 2020, these exchanges will enroll up to 25 million people.
These reforms in the individual segment have created an opportunity for the private health insurance industry (XLV) to attract new enrollments. To find out more about health insurance exchanges, please refer to Must-know distribution channels for commercial health plans.
Article continues below advertisement
Public exchanges
The above graph shows 17 states where Aetna is offering health insurance plans on the public exchanges. Health plans offered on public exchanges can only be purchased in the open enrollment period every year, starting November 15 and extending to February 15. Aetna expects to enroll approximately 0.8 million people through the public exchanges in the first quarter of 2015, which would make it the second or third largest national player in the public exchange business.
Private exchanges
Private health insurance exchanges are operated by a private organization such as a health insurance company or a consulting firm. Employers have been increasingly providing a fixed dollar amount to their employees and are directing them to private exchanges to shop for health plans. Analysts project that by 2018, 50% of employers in the US will adopt this practice. By 2018, Aetna, which currently holds about 15% of the market share in the private exchange segment, expects to earn about $7.5 billion in premiums and $375 million in profits through this opportunity.
Off-exchange enrollments
Health insurance companies such as Aetna (AET), Cigna (CI), Humana (HUM), and UnitedHealth Group (UNH) are gradually reducing the number of non-compliant ACA plans offered to individuals off the exchanges, as they are more cost-intensive. Aetna has adopted the strategy of moving individuals from non-compliant ACA plans, which charge higher premiums resulting from greater coverage, to compliant ACA plans. This has enabled the company to get the benefit of higher premiums of the non-compliant plans while retaining the cost advantage of the compliant plans.