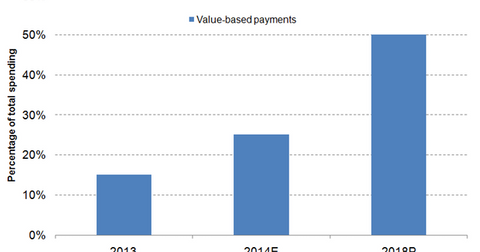 Why Aetna Is Shifting to a Value-Based Payment Model
By Margaret Patrick

Mar. 16 2015, Published 3:35 p.m. ET
Payment model
Traditionally, healthcare providers (XLV), like hospitals and physicians, in the US have been reimbursed based on the volume of services provided. This payment model is known as the "fee-for-service" model.
The fee-for-service model encourages health care providers to provide unnecessary services to earn higher reimbursements. This leads to excessive health care spending. To reduce this spending, the ACA (Affordable Care Act) targeted the Medicare program to gradually shift from the fee-for-service model to value-based payment models.
Article continues below advertisement
The above graph shows that Aetna projects that its value-based spending as a part of the total spending will rise from 25% in 2014 to 50% in 2018. Aetna (AET) has entered into value-based payment contracts with health care providers and mainly uses the following four methods to reimburse them for their services.
Accountable care organizations
Aetna's accountable care program involves the creation of an ACO (accountable care organization), which is a group of hospitals and physicians that fulfills certain qualifying criteria. ACOs are incentivized to offer cost optimal care to patients by sharing with them a part of the savings generated due to the increased efficiencies in Medicare beneficiaries' treatment.
Though ACOs were originally introduced by the Affordable Care Act for the Medicare program, they're being slowly adopted by managed care organizations such as UnitedHealth Group (UNH), Aetna, Humana (HUM), and Cigna (CI) for controlling medical costs of the employer-sponsored and individual insurance segment.
Article continues below advertisement
Patient-centered medical homes
PCMH (patient-centered medical homes) comprise of a group of PCPs (primary care physicians), physician assistants, and registered nurses. Aetna encourages PCPs and other participants in a PCMH through financial incentives, to provide higher quality care to patients at a lower cost.
P4P
In P4P (pay-for-performance), healthcare providers are paid bonus-based incentives for improving the quality of patient care while reducing the costs involved.
Bundled payments
The provider is reimbursed a single negotiated amount for all of the services provided for the treatment of a condition, also called an "episode of care." The healthcare provider can benefit from improved efficiency and lower costs, as this helps generate profits.