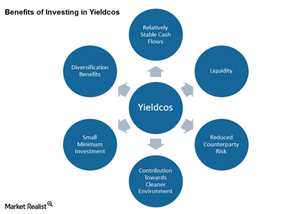 The Advantages of Investing in Yieldcos
By Mike Sonnenberg

Mar. 25 2015, Updated 1:06 p.m. ET
Common advantages
REITs, MLPs, and yieldcos have some benefits in common. In fact, yieldcos are often referred to as "synthetic MLPs" due to similarities they have with MLPs. Following are some of the major advantages of investing in yieldcos and other securities:
liquidity
small minimum investment
relatively stable cash flows
Article continues below advertisement
Liquidity
Publicly traded securities such as shares of corporations and yieldcos offer a higher degree of liquidity. For instance, if you invest directly in a solar power plant, you might have to pay for support as well as incur additional transaction costs if you suddenly wanted to sell your stake in it. Or worse, you might have to offer up the stake at a considerable discount to sell it on short notice.
With publicly traded securities, such as shares of Yingli Green Energy (YGE) or SunEdison (SUNE), and units of yieldcos, including NextEra Energy Partners (NEP) and NRG Yield (NYLD), your risk is reduced substantially because stock exchanges match buyers with sellers on a real-time basis.
Small minimum investment
Minimum investment requirements are much smaller for holding yieldco units than for investing directly in solar power (TAN) plants due to shared ownership. All publicly traded securities, including REITs and MLPs, share this benefit.
Relatively stable cash flows
Probably the biggest advantage of investing in securities like MLPs, REITs, and yieldcos is that they invest in operational projects with stable cash flows. As a result, they aren't exposed to risky activities such as research and development.
Aside from these benefits, securities offer diversification as well as reduced counterparty risk. Transactions happen on exchanges, so clearing houses take on the counterparty risk.
Clearly, these securities offer many benefits to investors. But what's in it for sponsors? We'll see in the next part of our series on yieldcos.