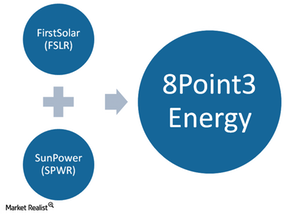 8point3 Energy: First Solar and SunPower Joint Yieldco
By Mike Sonnenberg

Updated
8point3 Energy
On February 23, 2015, First Solar (FSLR) and SunPower (SPWR) announced plans to set up a joint yieldco. Each company is expected to contribute a select operational solar generation project to form the yieldco, and each will have an equal share in it.
FSLR and SPWR are key components of the Guggenheim Solar ETF (TAN), making up 8.85% and 5.62% of the ETF, respectively.
On March 10, the companies filed a registration document with the U.S. Securities Exchange Commission for 8point3 Energy Partners, or 8point3, the yieldco. 8point3 is planning to raise $50 million in an IPO (initial public offering) soon.
Article continues below advertisement
The portfolio
Each sponsor will pool in assets for the yieldco. The initial portfolio will consist of 432 MW in solar assets. Residential and industrial solar (solar photovoltaics mounted on rooftops) will make up 55 MW, or 12.7%, of the initial portfolio. SunPower is to contribute the entire residential and industrial piece.
Out of 377 MW of utility-scale solar capacity, SunPower is contributing 115 MW, and First Solar is contributing the rest. The portfolio has a weighted average remaining life of 21.3 years.
Bottom line
SunPower (SPWR) and First Solar (FSLR) operate in different segments of the solar industry. SunPower is the leader in rooftop installations of high-efficiency crystalline silicon photovoltaics. Meanwhile, First Solar is the leader in thin-film technology and utility-scale projects. So, the deal means a mix in terms of end users, which is a potential diversification benefit.