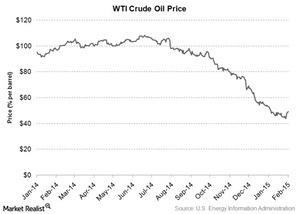 Will Amazon benefit from the decline in oil prices?
Reducing oil prices are good news for e-commerce players
Oil prices have declined by about 60% over the past six months. As the chart below shows, crude oil cost $108 per barrel on June 20, 2014. Prices touched $44 per barrel on January 29, 2015, before recovering somewhat. This comes as good news for e-commerce players such as Amazon (AMZN) and eBay (EBAY), which spent billions on shipping to customers.
Amazon spent $8.7 billion on shipping last year, which is equivalent to 9.8% of its revenues. Although Amazon passes on some of this cost to customers by separately charging for shipping costs, its net shipping cost was still 4.7% of its revenue in 2014. Plus, package delivery companies such as UPS (UPS) and Fedex (FDX) have been raising freight charges each year. This becomes an additional burden for Amazon. We discussed this concern in the previous part of this series.
Article continues below advertisement
Funds invested in oil companies
Although the decline in oil prices does lead to reduced investment by US domestic energy players like ExxonMobil (XOM) and Chevron (CVX), it will certainly benefit Amazon, reducing its net shipping cost this year. The Energy Select Sector SPDR ETF (XLE) has invested up to 16.5% and 13.1% of its portfolio in ExxonMobil and Chevron.