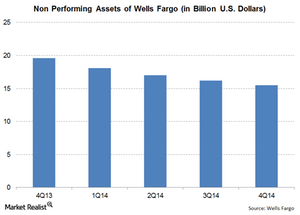 Wells Fargo's nonperforming assets drop: Why that's significant
By Saul Perez

Updated
Nonperforming assets impact profits and capital directly
Nonperforming assets are loans that are in jeopardy or in default by borrowers. All loans whose principal component has not been serviced for more than 90 days are considered nonperforming assets.
Banks have to provision for nonperforming assets from their profits. In extreme cases, nonperforming assets can't be provisioned from profits. In such cases, a bank has to take a hit on its capital.
Any impact on capital affects a bank's ability to continue operations. This makes nonperforming assets one of the most important indicators to track.
Article continues below advertisement
Nonperforming assets continued to decline in 4Q14
Wells Fargo's (WFC) nonperforming assets came in at nearly $15.5 billion at the end of 4Q14. This was a fall of nearly $739 million from 3Q14. Of this amount, $517 million came from a decline in nonaccrual loans. Another $222 million came from a decline in foreclosed assets.
Provision expenses increased in 4Q14
Wells Fargo's provision expenses in 4Q14 were $485 million, an increase of $117 million compared to 3Q14.
Net charge-offs stood at $735 million, an increase of $67 million compared to 3Q14. They stood at 0.34%, an increase of 2 basis points from 3Q14. The increase was driven mainly by an increase in commercial losses, which increased by 5 basis points compared to 3Q14. Lower recoveries impacted commercial charge-offs.
Total allowances made by Wells Fargo at the end of 4Q14 were $13.2 billion. This was equivalent to 4.5 times annualized 4Q14 charge-offs.
Wells Fargo's trend in nonperforming assets mirrors sector trends. Other banks such as Bank of America (BAC), JPMorgan (JPM), and Citibank (C) also reported very similar trends. All these banks are part of the Financial Select Sector SPDR (XLF).