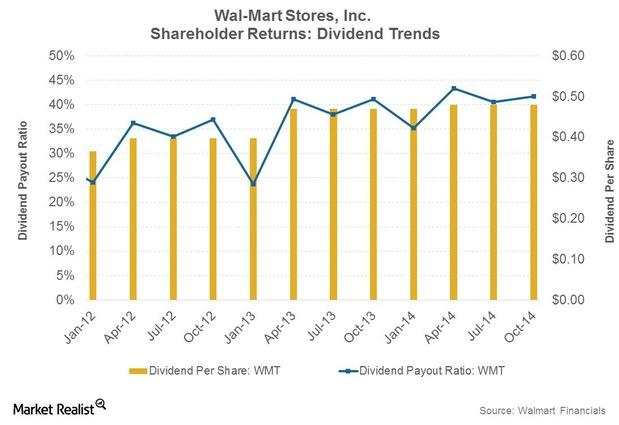 Why Walmart's Stock Is Less Volatile
By Phalguni Soni

Mar. 3 2015, Updated 4:05 p.m. ET
A dividend aristocrat
Stock price appreciation is only one part of shareholder returns. Walmart (WMT) has a history of increasing dividends. Walmart's stock is classified as a dividend aristocrat. Dividend aristocrats are selected S&P 500 Index (SPY) (IVV) stocks.
The group includes companies that increased their dividend per share, or DPS, for a period of at least 25 years. Dividends to Walmart shareholders increased for 41 consecutive years. This isn't a small feat. The group also includes Target (TGT) and Family Dollar Stores (FDO).
Walmart (WMT), Target, and Family Dollar Stores together constitute ~3.9% of the portfolio holdings of the SPDR S&P Dividend ETF (SDY).
Article continues below advertisement
Dividend yield
At 2.4%, Walmart's dividend yield is healthy. It has one of the best dividend yields in its peer group. Walmart is expected to pay a dividend of $1.92 in fiscal year 2015.
Volatility considerations
Stock prices can be subject to volatility. Recently, this was seen with Target. On December 19, 2013, Target reported a data breach. The breach impacted over 40 million credit cards. It compromised the personal information for ~110 million accounts. Target also changed its CEO. The breach impacted its financial performance and stock price. Although Target's stock price recovered, it led to severe volatility in the months after the breach. In fact, Target's total returns over the past year are more than double Walmart's returns—39.3% versus 17.4%.
However, due to its solid performance, Walmart is the top holding in the PowerShares S&P 500 Low Volatility ETF (SPLV). It has an ~1.3% weight.
Share buybacks
Walmart has also been creating value for shareholders by using its strong cash flows for share repurchases. Repurchased shares are retired. This lowers the number of shares used to compute the earnings per share, or EPS. This provides a boost to the EPS for existing shareholders.
Walmart repurchased about $46.2 billion worth of stock from fiscal year 2009 to fiscal year 2014. In June 2013, Walmart's board authorized a new $15 billion share repurchase program. The company seeks to counter the impact of slowing sales growth and market share cannibalization by e-retailers on returns to investors.
In the first nine months of fiscal year 2015, Walmart purchased 13.4 million shares at an average cost of $75.82. The purchases cost ~$1 billion in all. Repurchases have been accretive to shareholders. The company's stock was trading at $85.89—as of February 12, 2015.