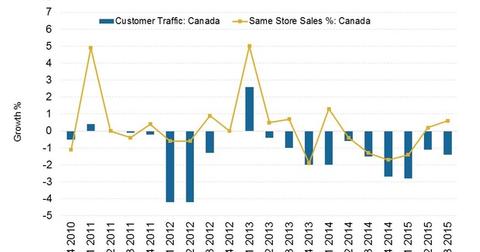 Walmart And Target In Canada – The Tortoise Versus The Hare
By Phalguni Soni

Updated
Walmart tightens its grip on Canada's market
Canada is one of Walmart's (WMT) top five international markets. The retailer's (XRT) store footprint includes 394 stores in Canada. The company's nearest rivals include the Real Canadian Superstore chain owned by Loblaw Companies (L.TO) in Canada, Canadian Tire, and Costco (COST) in the US.
Article continues below advertisement
Denting pockets
Over the past few years, Walmart stepped up its product offering in Canada—as Target (TGT) entered the Canadian market. Target rolled out as many as 133 stores in two years. However, due to sustained high losses and the likelihood of more to come, Target announced that it was exiting Canada.
Canadian push
Walmart's growth in Canada has been more phased. The company entered the market in 1994. However, it only operated discount stores. It rolled out its larger supercenters as late as 2006.
With Target exiting Canada, Walmart can probably expect to gain part of Target's customer base in Canada. Recently, Walmart stepped up its expansion efforts. It announced it was looking at 29 supercenter projects in the country, at an estimated investment of 340 million Canadian dollars. Besides the supercenters, the capex estimate includes spending for remodels and expansions in existing stores, expansion in its distribution network, and e-commerce investments.
Walmart's footprint would extend to 396 stores by January 2016.
Article continues below advertisement
Walmart has been employing its "Everyday Low Prices" and "Everyday Low Costs" strategies in Canada for quite a few years now. The strategies enabled the company to be more competitive—compared to the competition. Besides, the company is bullish on its e-commerce channel. Also, by increasing the food assortment at stores through the expansion of its supercenters, Walmart is indirectly boosting other merchandise sales as well.
Near-term headwinds
However, challenges remain—mainly from the macroeconomic perspective. The recent slump in energy prices will likely take a heavy toll on Canada's economy. This will affect both employment and incomes. The appreciating US dollar versus the Canadian dollar will also reduce Walmart's reported revenue and earnings.
The Bank of Canada recently announced a rate cut to spur business and consumer spending. This could mitigate the impact of a slowing economy on Walmart and other firms in the consumer sector (XLP) (XLY).