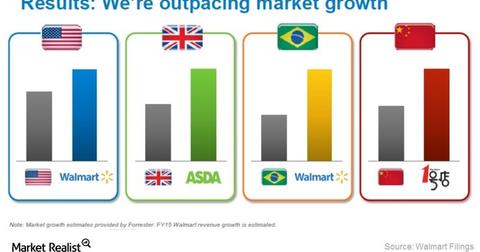 Why Walmart Has An Advantage In E-Commerce
By Phalguni Soni

Updated
The Walmart advantage
Walmart (WMT) has been growing faster than the overall e-commerce market. This year, its growth rate is expected to trump Amazon's (AMZN) growth rate. E-commerce sales grew at a compound annual growth rate, or CAGR, of 21.8% over the last ten years[2. 2005-15, Internet Retailer].
Walmart's e-commerce sales are expected to grow 25% in fiscal year 2015. Amazon is expected its to grow sales by 20%. Admittedly, Amazon is over six times Walmart's size. However, higher growth rates over a sustained period can help Walmart catch up.
Article continues below advertisement
Sales tax for online purchases
Going forward, one factor that will likely be negative for online sales for e-retailers—like Amazon—is the sales tax requirement. A study conducted by the NBER (National Bureau of Economic Research) estimated the impact of sales tax on Amazon's sales at about 10%. For larger purchases that are more than $300, the impact was estimated at ~24%.
Currently, around 23 states collect sales tax from Amazon. The sales tax requirement is based on whether a retailer has operations in the state. As explained earlier, Amazon is quickly expanding its network of fulfillment centers. It's foraying into more and more states to shorten delivery times for shipments.
Charging sales tax on purchases can and will erode the price advantage Amazon and other online retailers historically enjoyed. It will also level the playing field with Walmart. It will make the web the hottest battleground for retail (RTH).
Walmart and Amazon are part of the portfolio holdings of the SPDR MSCI World Quality Mix ETF (QWLD). Together they account for an ~1% weight. They are also part of the SPDR S&P Retail ETF (XRT) with a 2% weight together and the SPDR S&P 500 ETF (SPY) with a 1.4% weight together.