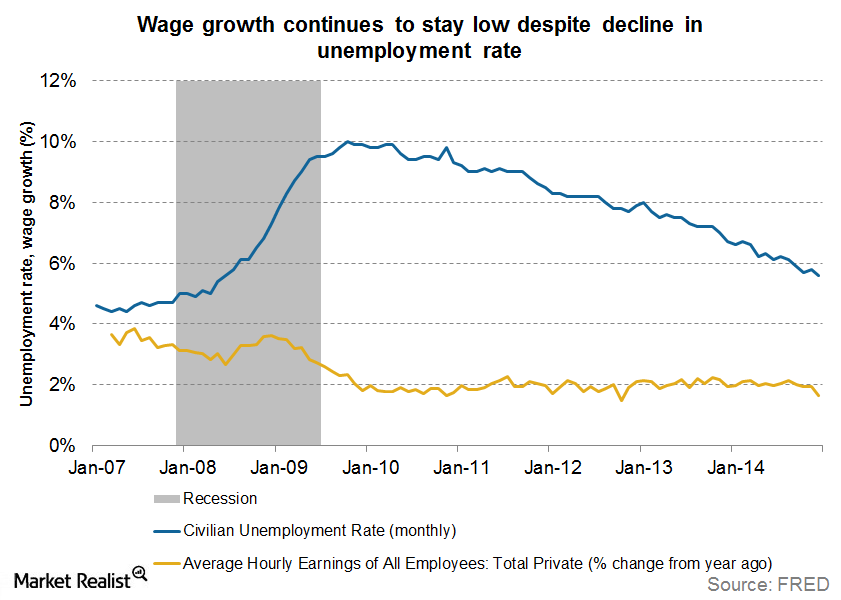 Why Wage Growth Continues To Stay Low
Assuming last year's pace of job creation is maintained, we would expect further improvement in wage growth as the slack in labor markets continues to erode. However, even with a cyclical improvement in the job market, wage growth may still not reach its long-term average for a sustained period.
Article continues below advertisement
Why wage growth continues to stay low:
While cyclical factors are pushing wages higher, secular factors and structural forces are conspiring in the opposite direction. These factors include the growing impact of technology on a broader array of jobs, the global wage arbitrage and employer sponsored healthcare becoming a bigger part of employee compensation. These undercurrents are not new, and their effects on the labor market have been felt in some ways for decades. But together they help explain why real wage growth has remained lackluster even during periods of relatively strong growth.
Market Realist – Research from the Federal Reserve Bank of San Francisco (or FRBSF) shows another cause for why wage growth continues to stay low. According to the research, there is a reluctance on the part of employers to reduce wages and reluctance on the part of employees to accept the reduced wages even when the economy is reeling under recession. This concept is alluded to as downward nominal wage rigidity. This downward rigidity of wages means that businesses avoid reducing wages following a contagion or negative economic shock like the US financial crisis (XLF) of 2008. This prevents a sharp decline in wages but reduces the demand for labor, causing an increase in unemployment. The unemployment levels are therefore higher than what they would have been if wages were fully flexible and not propped up by the propensity of businesses to avoid wage cuts.
Article continues below advertisement
Market Realist – According to the FRBSF, with economic recovery, the pressure to cut wages starts waning. But there is still an "accumulated stockpile of pent-up wage cuts" to be contended with. So the businesses wait for this pool of wage cuts to abate through an increase in inflation and an uptick in productivity. This process takes time and ultimately leads to low wage growth levels even as the unemployment levels recede and the economy plows ahead full steam. This is exactly what seems to be happening now, as the above graph shows. Wage growth continues to stay low despite a decline in the unemployment rate. Inflation does not seem to be traveling in the right direction, which is a headwind for the economy.
Though the jobless rates are falling and hiring is increasing, there is still some slack in the labor economy as evidenced by low wage growth. This could lead to downward pressure on inflationary expectations, which in turn is likely to keep prices of commodities like gold (GLD) (IAU) and silver (SLV) muted. This could also be the reason for a delay in the lift-off of rates by the Federal Reserve. A rate hike will affect both the US bond (BND) (TLT) and equity markets (SPY).