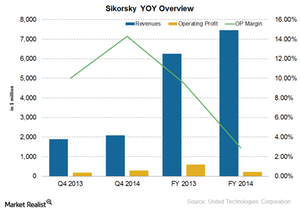 UTX Sikorsky segment performance for 4Q14
About Sikorsky
United Technologies's (UTX) Sikorsky segment is a world leader in the design, manufacture, and service of military and commercial helicopters, fixed-wing aircraft, spare parts and maintenance, repair and overhaul services for helicopters and fixed-wing aircraft, and civil helicopter operations. To learn more about this segment, read United Technologies' Sikorsky segment is an industry leader.
The segment competes with Boeing Company (BA), General Dynamics (GD), and Honeywell International (HON), which are a part of the iShares US Industrials ETF (IYJ).
Article continues below advertisement
Sikorsky's financial performance
The UTX Sikorsky segment shipped a total of 72 aircraft in the last quarter of 2014, including 57 military platforms and 15 commercial aircraft. These sales led to sales growth of 10% over the last year and an operating profit growth of 38%. The operating profit increase was driven by several factors:
higher international military volume
better mix of commercial OE volumes
favorable contract adjustments
Also, the drop in commercial aftermarket volume and an unfavorable mix in the military aftermarket partially offset this increase. For the quarter, the overall aircraft shipments were down compared to the prior year. However, aircraft completion volumes were up significantly, driven primarily by international military programs.
For the full year 2014, the segment's sales were up 6%, while its operating profit of $699 million was up 9%. Strong international military and commercial OEM sales, along with funded development, drove these incrases.
Sikorsky's expectations
The Sikorsky segment saw a major win from India's navy, which placed an order for 16 S-70B Seahawk naval helicopters. This order included an option for eight additional aircraft, along with a complete logistics support and training program.
On the other hand, the segment also finds some concerns in its expected 40 deliveries of twin-engine S-92 helicopters in 2015 due to the scaledown by some oil exploration companies. However, with the drop in oil prices and development production ramp-up, the segment expects to see 5–7% growth in military as well as about 3–4% growth on the commercial side.