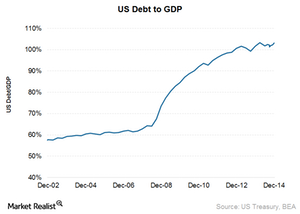 US public debt could push gold up
By Anuradha Garg

Nov. 19 2019, Updated 5:16 p.m. ET
What is the debt-to-GDP ratio?
The ratio of debt-to-GDP (gross domestic product) shows how much a country owes compared to how much it earns. Investors use the ratio to measure a country's ability to make future payments on its debt. This affects the country's borrowing costs and government bond yields.
US public debt is the amount of outstanding Treasury securities owed by the federal government.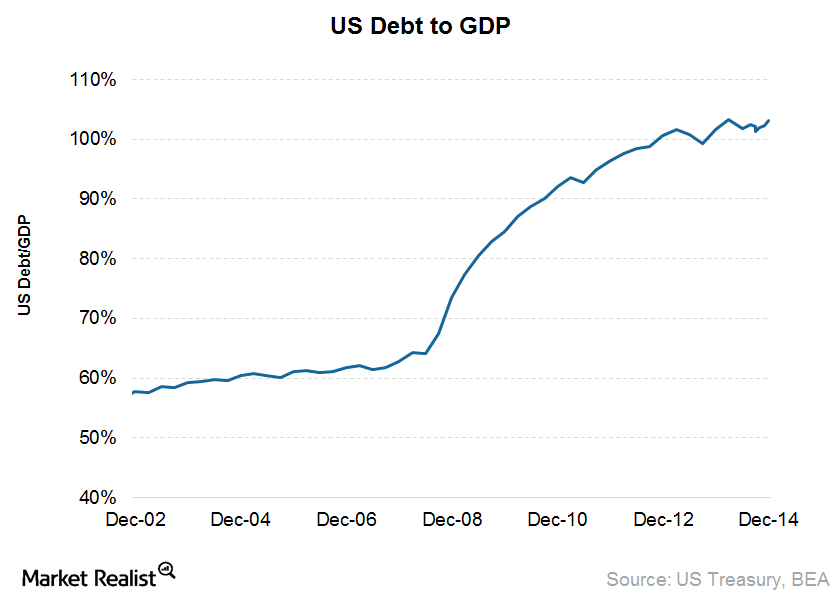 Article continues below advertisement
Impact on gold prices
The main concern regarding increasing debt is that as it rises beyond a certain point, the country will have to increase taxes and cut spending in productive areas in order to service the interest costs. That would be bad for economic growth. If economic prospects aren't bright, people don't have many options to fall back on. Gold is one of those options.
US public debt growth
US public debt grew from $18.06 trillion in November to $18.14 trillion in December. The ratio of debt-to-GDP also increased, from 102.3% in November to 103.1% in December, based on GDP for September 2014.
This is negative for the US dollar's long-term prospects. The US dollar affects gold prices. Gold prices have an impact on gold companies such as Goldcorp (GG), Barrick Gold (ABX), Newmont Mining (NEM), and gold-backed ETFs such as the SPDR Gold Trust (GLD). They also impact ETFs investing in gold stocks such as the VanEck Vectors Gold Miners ETF (GDX). GG, ABX, and NEM make up 10.7%, 8.1%, and 6.9% of GDX's holdings, respectively.