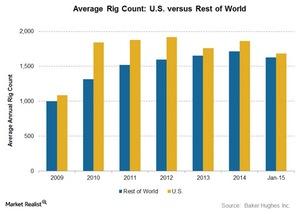 US leads oil production growth, but rig count advantage shrinks
US rig count comes down
In this series, we've been discussing oil rigs and crude oil prices in the US. In this part of the series, we'll talk about global rig count and global crude oil production.
Article continues below advertisement
US versus world rig count
According to Baker Hughes' estimates, the US rig count currently exceeds the total number of rigs in the rest of the world combined. In January 2015, there were 1,683 rigs in the US compared to 1,626 rigs in Africa, Asia-Pacific, Canada, Europe, Latin America, and the Middle East combined.
In comparison, there were 1,862 rigs active in the US in 2014 on average, compared to 1,716 rigs for the rest of the world combined. The US rig count has fallen steeply in the recent months. Thus, the difference between the number of rigs in the US and the number of rigs in the rest of the world has come down this year.
The Middle East is a distant second to the US. On average, it had 415 rigs in January. From 2009 to 2014, the US surpassed the total international rigs combined by ~230 rigs, or 16%.
Higher rig activities benefit rig servicing companies like Baker Hughes (BHI) and Schlumberger (SLB). These companies are part of the VanEck Vectors Oil Services ETF (OIH).
Crude oil production in the US and in the rest of the world
During January to October 2014, crude oil production in the US averaged 8.58 million barrels per day, (or MMbbls/d). Between 2009 and 2014, the total global rig count increased by ~13%.
From 2009 to October 2014, oil production increased by 77%. It increased from 5.12 MMbbls/d in January 2009 to 9.05 MMbbls/d in October 2014. Outside the US, oil production decreased ~0.1% from January to October 2014.
The largest US oil and gas companies, like ConocoPhillips (COP) and ExxonMobil (XOM), are shifting their exploration and production focus to the US.
Check out Market Realist's Energy and Power page for more of the latest news in the sector.