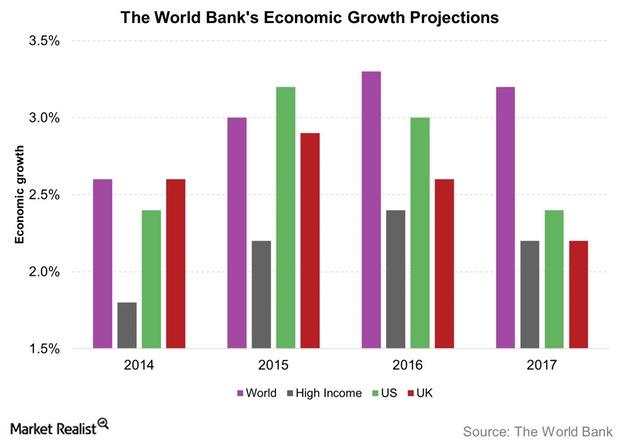 The US economy is the 'last man standing' among advanced nations
Expected to be strong
The US economy is expected to power the developing world in 2015 and 2016. Multilateral agencies like the International Monetary Fund (or IMF) and the World Bank have high hopes for a resurgent US economy.
The IMF expects the US economy to grow by 3.6% in 2015 and by 3.3% in 2016. The only other advanced economies that come close to matching this pace of growth are the United Kingdom and Canada. The UK is expected to grow by 2.7% and 2.4% in 2015 and 2016, respectively, while Canada's economy is expected to rise by 2.3% and 2.1% in these respective years.
Meanwhile, the World Bank expects the US economy to grow by 3.2%, 3.0%, and 2.4% in 2015, 2016, and 2017, respectively. These rates are higher than the Bank's estimates for economic growth in high-income countries, which stand at 2.2%, 2.4%, and 2.2% for 2015, 2016, and 2017, respectively.
Article continues below advertisement
The primary reason
The reason for this positive outlook for the US economy is its consumption-driven nature. The large drop in crude oil prices, combined with a decent pass-through of this fall to consumers, gave them more money to spend. Demand is expected to be higher also because of robust consumer sentiment data and a better labor market. A higher consumer demand helps companies like Proctor & Gamble (PG) and Wal-Mart Stores Inc (WMT).
But some recent data suggests that all components of the economy are not firing. Some of these are those that the US Federal Reserve looks closely at for determining its stance on monetary policy. Investors in ETFs like the iShares Barclays 20+ Year Treasury Bond Fund (TLT), the iShares Barclays 7–10 Year Treasury Bond Fund (IEF), and the iShares Barclays 1–3 Year Treasury Bond Fund (SHY) are directly impacted by a change in the federal funds rate.
In this series, we will look at some indicators that are crucial to a sustained recovery rather than a momentary spurt. We will begin with a review of the slow pace of growth of the US economy in the fourth quarter of 2014.