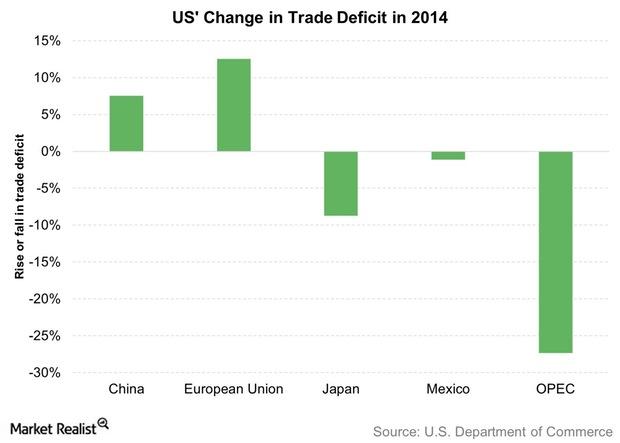 US crude oil imports rose in December 2014
Total imports surge
Imports increased by $5.3 billion in December. The imports of goods and services registered a rise. While imports of goods increased $4.4 billion, the imports of services increased $0.9 billion from a month ago. Industrial supplies and materials led the imports of goods. Transport led the increase in the imports of services.
Article continues below advertisement
Crude oil imports rise
The import of petroleum products rose in December. It fell for two consecutive months. Specifically, crude oil imports rose in quantity and value from a month ago. The US imported 247,395 thousand barrels of crude oil in December 2014—up from 188,873 thousand in November and 230,311 thousand barrels last year. In dollar terms, crude oil imports were valued at $18.2 billion in December—up from $15.7 billion in November.
In 2014, on a non-seasonally adjusted basis, the US imported crude oil worth $246.4 billion. In 2013, the imports were valued at $272.8 billion.
In 2014, crude oil imports fell in value. This was due to the domestic production of fracking and shale oil. This helped reduce the dependence on foreign oil imports. The decline in oil prices also helped control the oil bill.
The fall in crude oil helped keep the US trade deficit in check in 2014. However, the fall hurt ETFs—like the United States Oil Fund, LP (USO), the SPDR S&P Oil & Gas Exploration & Production ETF (XOP), and the VanEck Vectors Oil Services ETF (OIH). In 2014, the fall led to a general rise in consumer spending (XLY) (XLP).
Regional surpluses and deficits
On a census basis, the US had a goods deficit of $342.6 billion with China in 2014—up $23.9 billion from 2013. Although the exports of goods to China rose $2.3 billion in the year, imports surged by $26.2 billion. On the positive side, the goods deficit with OPEC (Organization of the Petroleum Exporting Countries) fell $18.6 billion to $49.4 billion in 2014. Imports of goods fell by $20.6 billion in the year.
In the next part of this series, we'll explore a report that gives important insights into the US manufacturing sector's health.