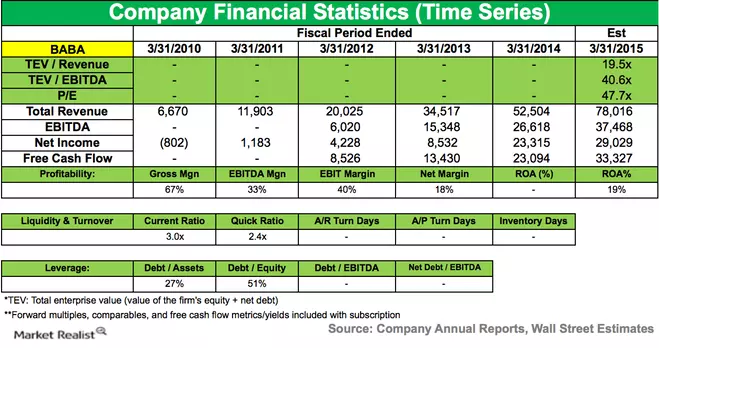 Tiger Global Management starts new position in Alibaba
Tiger Global Management and Alibaba Group
Tiger Global Management added new positions in Alibaba Group Holdings (BABA) and Pilgrim's Pride (PPC). The fund increased its positions in Autohome (ATHM) and Avis Budget Group (CAR), and decreased its positions in Visa (V) and Hertz Global Holdings (HTZ). In addition, the fund sold off its position in Burger King (BKW) and Priceline Group (PCLN).
Tiger Global Management has invested over $604 million in Alibaba, which represents 7.13% of the total portfolio. Alibaba has a 2.60% exposure to the SPDR S&P China ETF. The ETF tracks the overall performance of 316 publicly traded companies in Asia, while eBay, a direct competitor, is listed on the SPDR S&P 500 ETF (SPY). The ETF tracks the overall performance of 500 publicly traded companies in the growth category.
Article continues below advertisement
Overview of the company
Alibaba is a Chinese e-commerce firm that operates in the online and mobile marketplace and connects retailers and wholesalers with prospective customers. The firm was started in 1999 to connect Chinese manufacturers with clients overseas, and by the year 2012, Alibaba's online portal had handled over $1.1 trillion in sales.
The initial public offering (or IPO) of this company was in process for over a year, and it raised over $25 billion, making it the largest IPO in stock market history. Taobao, the consumer-to-consumer portal of Alibaba, displays almost a billion products. Some of Alibaba's major businesses include:
Taobao Marketplace is China's largest online shopping destination. By September 2014, Alibaba's websites accounted for 80% of the country's sales.
Alitrip is a leading online travel booking platform.
Alibaba Cloud Computing is a provider of cloud computing services to businesses and entrepreneurs.
Ant Financial Services Group operates Alipay, which provides payment and escrow services on its marketplaces through contractual arrangements.
China Smart Logistics, or Zhejiang Cainiao Supply Chain Management, is a 48%-owned affiliate that operates a central logistics information system, which connects a network of express delivery companies in China.
Article continues below advertisement
Alibaba partners with Haier
In a recent press statement, Haier Group and Alibaba Group announced that together they would launch a line of television sets, enabling users to not only watch their favorite shows online, but also to play games, shop, and browse the web.
Revenue grew, margins impacted
Revenue grew 53.7% year-over-year to $2.74 billion during 2Q15, driven by the rapid growth of China's commerce retail business. However, net income fell 39% to $494 million, due to share-based compensation charges, increased amortization expenses, and an increase in the effective tax rate. Diluted earnings per share were $0.20, while non-GAAP (generally accepted accounting principles) diluted earnings per share were $0.45.
$8 billion bond offering
November 2014 reports noted that Alibaba saw a high demand for its $8 billion debt offering. The company plans to use the net proceeds primarily to refinance its existing credit facilities.