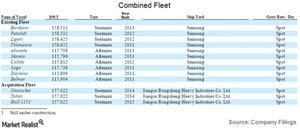 Tankships seeks to expand its fleet size through acquisitions
By Katie Dale

Nov. 20 2020, Updated 12:23 p.m. ET
Modern tanker fleets
Tankships Investment Holdings Inc. (TNKS) has a combined modern fleet of 13 crude oil tankers. This includes the three vessels that will be acquired after its initial public offering, or IPO. Out of the 13 vessels, six Aframax tankers were built at Samsung Heavy Industries, or SHI, in Korea. Of the seven Suezmax tankers, four were built at SHI and three were built at Jiangsu Rongsheng Heavy Industries Co. Ltd. in China.
Article continues below advertisement
Its combined fleet records 1.8 million deadweight tonnage, or DWT, and an average age of almost 2.1 years. This is much younger than the average age of 9.5 years recorded by world crude oil tanker fleet. These fleet characteristics provide Tankships with benefits like reduced off-hire time for maintenance, lower operating and dry docking costs, and higher fleet utilization.
Fleet expansion through acquisitions
Tankships seeks to expand its fleet size through timely and selective acquisitions of additional secondhand modern tankers and the available optional vessels at attractive prices. The company believes that expanding the size of its fleet, including an additional 17 modern tankers, will allow it to enhance its market presence in this sector. It will make it attractive to potential charterers and other customers—including major oil companies, oil traders, and refineries. Tankships hasn't bought any option vessels yet.
On the back of rising spot rates, Tankships—along with other companies like Teekay Tankers (TNK), DHT Holdings (DHT), Frontline Ltd. (FRO), and Tsakos Energy Navigation Ltd, (TNP)—looks to leverage on the opportunity with its financial strength. It plans to undertake selective acquisitions of modern tankers. This may increase its earnings and operating cash flow. Also, it will benefit the broader shipping industry (SEA).