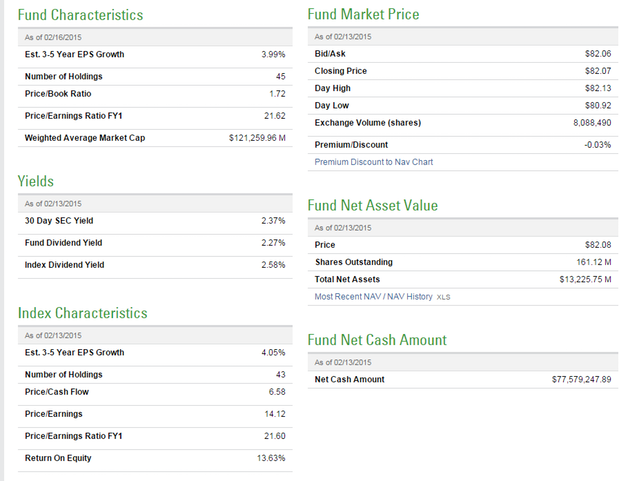 The SPDR Energy ETF (XLE): Structural Analysis
By Liam Odalis

Feb. 19 2015, Updated 10:07 a.m. ET
Structural analysis
While the Select SPDR Energy (XLE) ETF has had mid-single digit EPS (earnings per share) growth over the past five years, this year, its constituents could see an almost 25% decline in aggregate EPS. As a result, Berkshire Hathaway (BRK) completely sold two of the largest holdings in the ETF, Exxon Mobil (XOM) and Chevron (CVX) in its latest 13F filing.
As a result of this earnings decline, the forward price-to-earnings ratio or PE of XLE has risen to 21.6x. This high PE ratio could mean that the price of the index's underlying securities hasn't yet adjusted for the decline in underlying operating earnings or expects them to improve in the near future.
Article continues below advertisement
The underlying index's dividend yield is also high, at 2.6%. Although the dividend yield of this ETF is higher than that of the S&P 500, it's important not to chase this yield due to its risky exposure to volatility commodities like oil and natural gas—both recently hit two-year lows. Due to the large market cap of the ETF ($13 billion) and high daily average trading volume (8 million shares per day), it's a highly liquid security that investors of all sizes can trade with ease.
The discount to net asset value (NAV) of the ETF is also very low (0.03%) due to the presence of ETF arbitrageurs, and the security is both short-able and has outstanding options on it. In the next part of this series, we'll discuss some of the industry exposures of XLE, including to upstream oil and gas—companies like Apache (APA) and Chesapeake (CHK), midstream—companies like Kinder Morgan (KMI), downstream—companies like Tesoro (TSO), and energy services—companies like Halliburton (HAL).