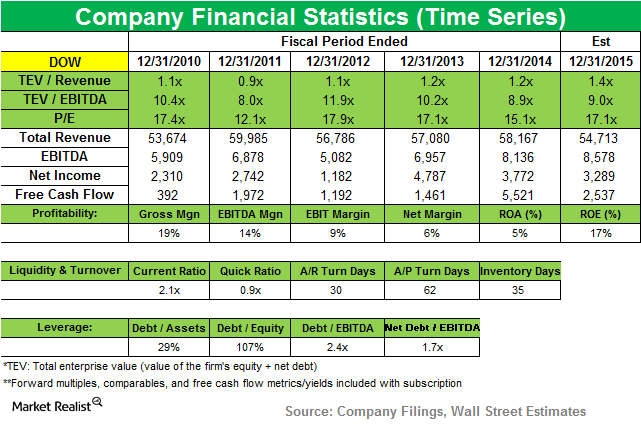 Soros continues to be bullish on Dow Chemical
By Samantha Nielson

Feb. 24 2015, Updated 3:05 p.m. ET
Soros adds to Dow Chemical
Soros Fund Management upped its position in Dow Chemical (DOW) in the fourth quarter. The position now accounts for 2.58% of the fund's 4Q14 portfolio. The fund currently owns 5,183,739 shares, up from 2,918,714 shares in 3Q14.
Dow Chemical has a 8.9% exposure to the Materials Select Sector SPDR Fund (XLB).
Article continues below advertisement
Overview of Dow Chemical
Dow Chemical (DOW) manufactures and supplies specialty chemicals, advanced materials, agrosciences, and plastics, which are used primarily as raw materials for manufacturing customer products and services. The company's businesses deliver a broad range of technology-based products and solutions to customers in approximately 180 countries and in high-growth sectors such as packaging, electronics, water, coatings, and agriculture.
The company's website states that it has shifted its focus to downstream, market-aligned businesses, while pursuing an asset-light approach for upstream low-cost businesses and tightening capital allocation. In 2013, Dow had annual sales of more than $57 billion.
Activist pressure
Dow Chemical has faced activist pressure from Dan Loeb's Third Point since January 2014. Last year, Dow avoided a proxy war by agreeing with Third Point to add four new independent directors to its board.
Article continues below advertisement
Dow has been divesting assets
Dow has been divesting assets as part of its "ongoing focus to maximize value across its integrated portfolio by reducing exposure to non-strategic businesses and assets." The company signed definitive agreements to sell its global sodium borohydride business to Vertellus Specialty Materials and its polyolefin films plant in Findlay, Ohio to Valfilm North America. Last year, Dow raised its divestiture target to $7 billion to $8.5 billion to be completed by mid-2016.
Sales flat year-over-year for 4Q14
For 4Q14, Dow posted earnings per share of $0.85 on an adjusted basis, or $0.63 on a reported basis. This compares with earnings of $0.65 per share on an adjusted basis, or $0.79 per share on a reported basis, in the corresponding period last year. Sales were $14.4 billion, or flat compared to the corresponding quarter last year. For the full year, sales were $58.2 billion, up 2% versus the prior year.
Article continues below advertisement
Dow says lower oil prices are a relative positive
In terms of outlook, the management noted that "against the backdrop of ongoing macroeconomic, currency and energy market uncertainty, we continue to see positive underlying demand fundamentals." Management added that "tightening supply and demand is acting to offset some of the challenges that are a result of falling oil prices."
Soros' top position updates in 4Q14
Soros Fund Management added new positions in Netherlands-based LyondellBasell (LYB), Endo International (ENDP), LendingClub (LC), and Allergan (AGN). The fund exited its positions in Intel (INTC) and Apple (AAPL). The fund continued to be bullish on Dow Chemical (DOW), Spansion (CODE), and United Continental Holdings (UAL).
The next part of this series will discuss the fund's position update in Spansion.