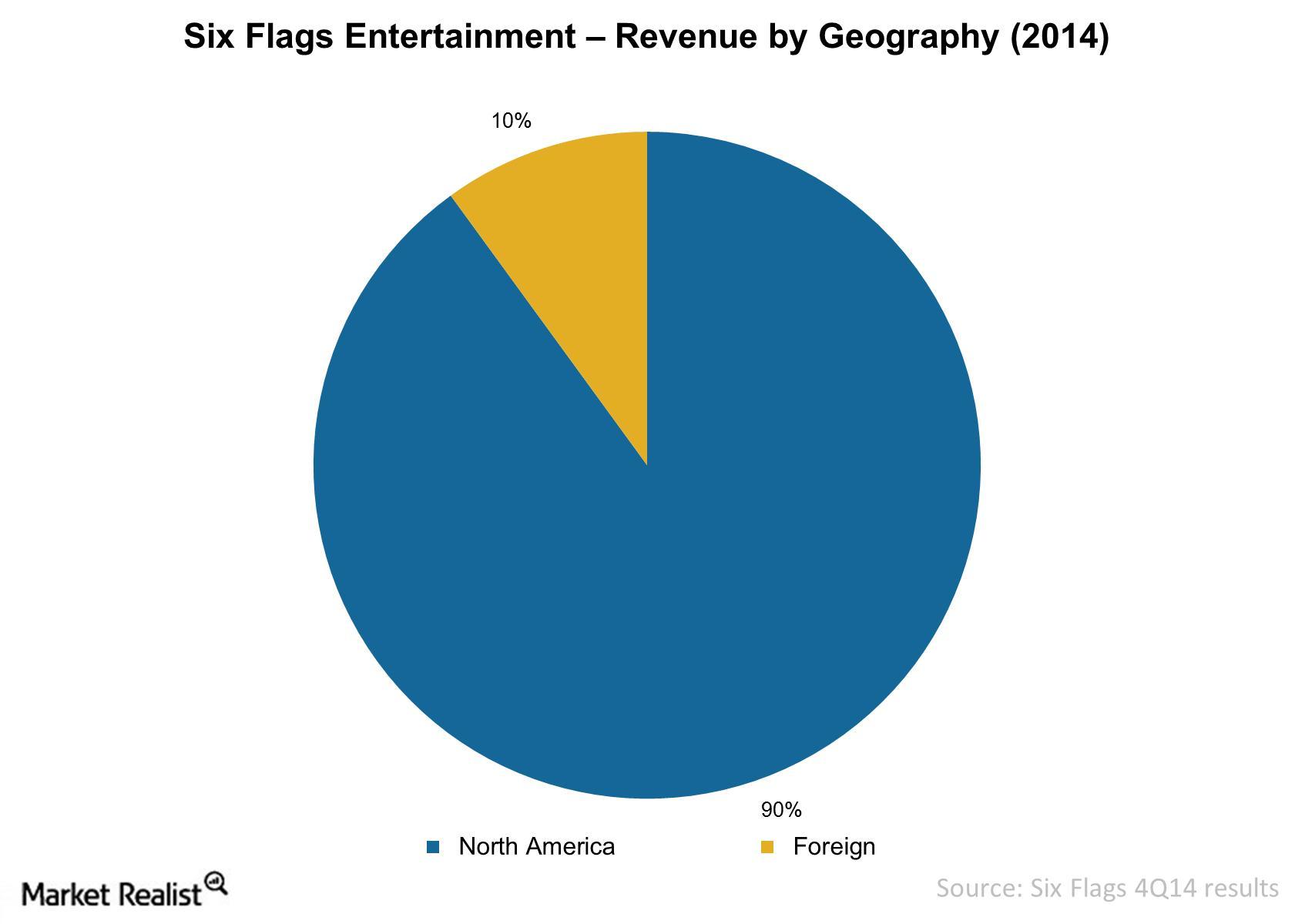 Six Flags: Business overview and geographic presence
By Shawn Bolton

Feb. 26 2015, Published 10:59 a.m. ET
Six Flags: Business overview
Founded in 1961, Six Flags Entertainment Corporation (SIX) is the world's largest regional theme park company. It has $1.2 billion in revenue and 18 parks across North America. It operates 16 parks in the United States, one in Mexico City, and one in Montreal, Canada.
Cedar Fair (FUN) and SeaWorld Entertainment (SEAS) own and operate 11 theme parks. The Walt Disney Company (DIS) has four theme parks in addition to water parks and resorts.
Six Flags owns and operates regional theme, water, and zoological parks. Six Flags offers coasters, themed rides, water parks, and attractions. The above chart shows that ~90% of Six Flags' revenue is derived from North America, while only 10% is attributable to outside North America.
Six Flags' operations are highly seasonal, with approximately 80% of park attendance and revenues occurring in the second and third calendar quarters of each year. The most significant period falls between Memorial Day and Labor Day.
In early 2014, Six Flags announced two partnerships to develop Six Flags–branded theme parks outside North America, one in the Middle East and the other in China.
To know more about Six Flags, read An investor's guide to Six Flags Entertainment.
Article continues below advertisement
Investing through ETFs
Investors can hold a diversified portfolio in leisure companies by investing in ETFs such as the Consumer Discretionary Select Sector SPDR Fund (XLY). Six Flags is a dividend-paying company and is a part of the Global X SuperDividend U.S. ETF (DIV), which tracks the performance of companies that rank among the highest dividend-yielding equity securities in the United States. DIV has ~2.1% exposure in SIX. XLY has the highest exposure of ~7% in DIS.
In this series, we'll look at why Six Flags' revenue has set a new record. We'll go over the company's reasons for improving admissions revenue and guest spending per capita. We'll also look at Six Flags' prudent and efficient capital investment and what's driving Six Flags' profitability. Finally, we'll find out about Six Flags' shareholder rewards and look at investing in Six Flags.