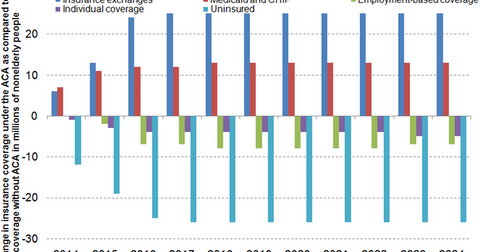 The rise in insurance demand can benefit managed care stocks
By Margaret Patrick

Updated
Insurance demand
With 26 million uninsured people expected to gain insurance in the US by 2017 as a result of the Affordable Care Act (or ACA), the health insurance industry—part of healthcare industry (XLV)—is seeing a rise in health insurance demand.
The above graph shows the projections for the change in the total number of insured individuals in various programs as a result of the ACA. Insurance exchanges are expected to get 25 million new enrollees, while Medicaid expansion is expected to add 13 million people to the insured population. However, employer-sponsored coverage and individual coverage should decline because of the substitution effect. This means people from these plans will shift to competitively priced plans sold on health insurance exchanges.
Article continues below advertisement
Managed care organizations such as UnitedHealth Group (UNH) and Aetna (AET) can benefit from an increase in exchange enrollments. They accounted for a substantial 17.2% and 9.3%, respectively, of total commercial revenues earned from exchange plans, employer-sponsored coverage, and individual coverage by the private health insurance industry in 2013. Organizations such as UnitedHealth Group, WellCare Health Plans (WCG), and Centene (CNC) will benefit from Medicaid expansion. They had a substantial market share of Medicaid revenues in 2013, amounting to 8.2%, 4.9%, and 4.6%, respectively.
Adverse selection
According to the Centers for Medicare and Medicaid Services (or CMS), US healthcare costs are expected to increase at a 6% annual growth rate from 2014 to 2023 on account of the combined impact of the aging population, better economy, and greater use of health services by the newly insured population.
Analysts expect an increase in medical service use to lead to a rise in premiums for healthcare plans. Premiums depend on the number of services used and the use of resources for providing the service. As premiums increase, people who are healthy and not able to afford premiums drop out of their plans. Only the very sick remain enrolled in their plan, increasing the total risk of the risk pool and further increasing premiums. This phenomenon is called "adverse selection."