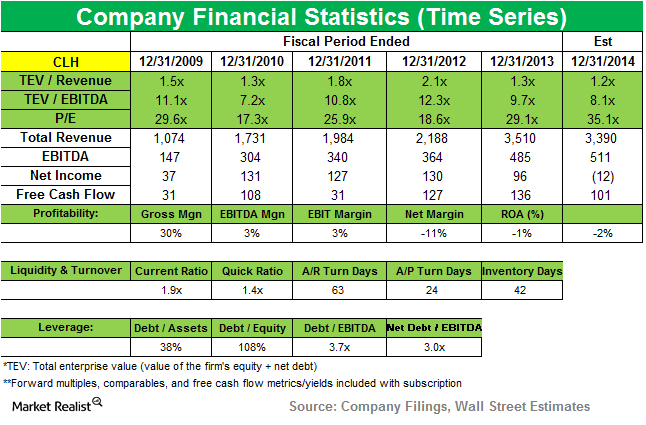 Relational lowers position in Clean Harbors
By Samantha Nielson

Feb. 20 2015, Updated 9:06 a.m. ET
Relational lowers position in Clean Harbors
Relational disclosed a lower stake in Clean Harbors (CLH) of 2.98 million shares this month. An amended 13D filing earlier in February stated the stake had seen a 4.96% reduction. The fund held 5.87 million shares in Clean Harbors at the end of 4Q14, according to the most recent 13F filing.
Relational revealed an activist stake in April 2014. The fund said that Clean Harbors was "undervalued" and that "the current share price does not adequately reflect the potential for significant earnings and cash flow growth." Relational said it had had discussions with the management over undervaluation of high return businesses, portfolio strategic review, operational improvements, and capital allocation.
Article continues below advertisement
Overview of Clean Harbors
Founded in 1980 and based in Massachusetts, Clean Harbors is a provider of environmental, energy, and industrial services. The company offers a broad range of services such as end-to-end hazardous waste management, emergency spill response, industrial cleaning and maintenance, and recycling services. Through its Safety-Kleen subsidiary, Clean Harbors is a recycler and re-refiner of used oil. The company is also a leading provider of parts washers and environmental services to commercial, industrial, and automotive customers.
Clean Harbors manages its operations in six reportable segments:
Technical Services
Industrial and Field Services
Oil Re-refining and Recycling
SK Environmental Services
Lodging Services
Oil and Gas Field Services
Relational supported Clean Harbors' strategic review
Relational noted in its 13D filing last year that "Clean Harbors' dominant position in hazardous waste collection, transportation, and disposal is severely underappreciated. Its legacy Technical Services and Industrial & Field Services businesses, which represent 66% of total company EBITDA, consistently earn a high return on invested capital and benefit from material barriers to entry."
In February last year, Clean Harbors announced a broad strategic review of its operating structure aimed at driving organic growth and improving its return on invested capital. Relational supported this move and said the "company will benefit from a higher enterprise value to EBITDA multiple as it refocuses its business mix and improves its return on invested capital."
Announces spin-off Oil and Gas Field Services business
Clean Harbors recently announced that it plans to carve out its Oil and Gas Field Services segment as a standalone public entity. The company also intends to include its lodging drill camps business from its Lodging segment as part of the new entity. Clean Harbors noted in its 3Q14 results that "overall conditions for the Oil and Gas Field Services segment were not favorable near-term as seismic business continues to underperform and energy markets remain under commodity pressure." Peer Waste Connections (WCN) also said recently that "Exploration and production waste activity will undoubtedly be impacted by the recent precipitous drop in crude oil prices." Other exploration and production waste treatment solutions providers include Waste Management (WM), Progressive Waste Solutions (BIN), and Republic Services (RSG).
For 2014, Clean Harbors expects revenues in the range of $3.40 billion to $3.42 billion and adjusted EBITDA (or earnings before interest, tax, depreciation, and amortization) in the range of $510 million to $520 million.