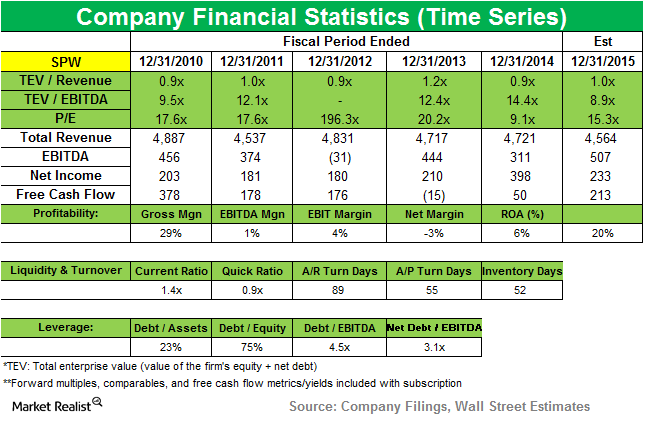 Relational continues to lower stake in SPX Corporation
By Samantha Nielson

Nov. 20 2020, Updated 1:28 p.m. ET
Relational lowers position in SPX
Relational Investors lowered a huge stake in SPX Corporation (SPW). The fund sold 1,976,419 shares in the company that accounted for 13.3% of the activist fund's 4Q14 portfolio. A 13D filing on January 20 also noted that the fund further lowered its stake to 3.55 million shares that represented a 8.64% stake in SPX.
Relational disclosed an activist stake in SPX in 2013 and said the company's costly acquisitions had impacted profitability and shareholder returns. According to news reports back then, the fund pushed for enhancing margins and speeding sales of non-core assets.
Article continues below advertisement
Overview of SPX Corporation
Based in Charlotte, North Carolina, SPX Corporation is a global, multi-industry manufacturing leader with around $5 billion in annual revenue. The company has two reportable segments:
Flow Technology segment offerings include engineered pumps, valves, mixers, plate heat exchangers, and dehydration and filtration technologies. This segment primarily serves customers in food and beverage, power and energy, and industrial end markets.
Thermal Equipment and Services segment offerings include dry, evaporative, and hybrid cooling systems; rotating and stationary heat exchangers and pollution control systems for power generation; HVAC (heating, ventilatio,n and air conditioning) and industrial markets; and boilers and heating and ventilation products for the residential and commercial markets.
Its remaining operating segments that design, manufacture, and market power transformers, industrial tools, and hydraulic units, communications and signal monitoring systems, fare collection systems, and portable cable and pipe locators fall under the category of Industrial Products, Services, and Other. This is not considered a reportable segment.
SPX to spin off Flow business
In October, SPX announced plans for a tax-free spin-off of its Flow business into a new, standalone, publicly traded company. SPX said it would complete the transaction within 12 months. The Future Flow Company will consist of SPX's current Flow segment and its hydraulic technologies business. SPX expects the spin-off have annual revenue of approximately $3 billion.
Reports in 2013 noted that after the sale of non-core assets, SPX could be an acquisition target of private equity firms and its Flow business competitors GEA Group (GEAGF) and Flowserve (FLS). SPX's thermal and industrial products see competition from ABB (ABB), General Electric (GE), and Siemens (SIEGY). In January, a Market Realist article explained why GE and Siemens are investing heavily in gas-fired technology.
SPX posts net loss
SPX's 4Q14 revenues fell 3.9% to $1.28 billion from $1.33 billion in the year-ago quarter. Organic revenues declined 0.5% due primarily to a $40-million reduction in revenue recognized on the power projects in South Africa. SPX posted a net loss of $31.8 million or $0.78 per share compared to a profit of $85.2 million or $1.87 per share in the year ago quarter.
The next part of this series will highlight the fund's stake decrease in  Hologic Inc.