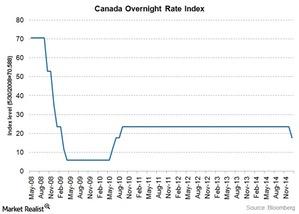 Why the rate cut may fuel the housing bubble in Canada
By Surbhi Jain

Dec. 4 2020, Updated 10:53 a.m. ET
Rate cut may fuel the housing bubble in Canada
Declining oil prices led the country's central bank, Bank of Canada, to cut its key interest rate. Another cut is expected in March. Although the rate cut intends to boost the economy, it's also fueling the housing bubble. The economy is succumbing to the pressure of lower oil revenue. This translates to lower investments by businesses.
Article continues below advertisement
Mortgage lending gets a boost from a rate cut
A cut in the key interest rate leads to a cut in the banks' prime lending rate. Recently, the key interest rate in Canada (EWC) was cut by 25 basis points, or bps. All major commercial banks in Canada—including Royal Bank of Canada (RY), Toronto Dominion Bank (TD), Bank of Nova Scotia (BNS), and the Bank of Montreal (BMO)—cut their prime lending rates by 15 bps.
Now, home equity lines of credit and variable-rate mortgages—a significant segment accounting for about 25% of the mortgage market in Canada—are generally benchmarked to the prime rate.
While the variable-rate mortgages benefit immediately from a rate cut, the lending rate for fixed-rate mortgages also declines over time. Borrowers' preference starts shifting towards variable-rate mortgages. Mortgage loans available at lower rates go on to induce a buying spree among homebuyers. In a rush to get the funds at the lower rates, the homebuyers may ignore the overvaluation that's inherent in the pricing.
A home buying spree tends to increase prices more until they become unaffordable. Then, homebuyers start defaulting on their loans.
Some correction in Canada
In certain oil-rich parts of the country, you can already see that this happened. In Calgary, home sales fell 39% in January 2015—compared to the year before. The average home price fell by 0.5% over the same period. So far, the effect is limited to areas directly impacted by the oil price drop.
Toronto's housing market is still positive. Home sales were up 6.1% and home prices were up 4.9% in January 2015—compared to last year.
In Canada, home prices are still high enough to pose the risk of a housing bubble in the country. Also, the spring season is coming up. Banks come out with their special mortgage rates. People seem to be on a home-buying spree. You wouldn't expect home prices to take a hit.