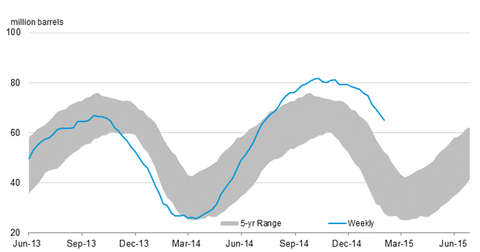 Propane prices remain lower and steadier in 2015
By Keisha Bandz

Updated
Natural gas liquids
Propane is a natural gas liquid (or NGL). NGLs are hydrocarbons in the same family of molecules as natural gas and crude oil. Other NGLs include ethane, butane, and pentane. Propane and ethane, in particular, are both important feedstocks for chemical plants. But around 5% of all US homes use propane as a heating fuel. So it's important for investors to monitor propane prices.
Article continues below advertisement
Propane prices and inventories
Propane prices depend on inventory, which in turn depends on the winter's severity. Last winter, propane prices spiked as inventories in certain regions that desperately needed propane experienced a propane shortage on account of severe cold and a lack of transportation.
Last week, residential propane prices averaged ~$2.36 per gallon—which was ~1 cent per gallon lower than the week prior and ~$1.40 per gallon less than the price in the corresponding period last year.
Propane prices affect propane distributors such as Ferrellgas Partners (FGP), Suburban Propane (SPH), AmeriGas (APU), and NGL Partners (NGL). Most of these companies are components of the Global X MLP ETF (MLPA). SPH, APU, and NGL make up ~6.2% of the ETF.
So far this winter, prices are lower and also steadier, closer to ~$2.4 per gallon. This is mainly because of the comfortable inventory position in propane, which the chart below illustrates.
In the week ended January 30, US propane inventories decreased by 2.3 million barrels to 65 million barrels. To date, propane inventories are 37.1 million barrels greater—or ~133% higher—than they were in the corresponding period last year.
Gulf Coast inventories decreased by 0.7 million barrels, and so did East Coast inventories. Rocky Mountain or West Coast inventories and Midwest inventories decreased by 0.2 million barrels and 0.6 million barrels, respectively.
Outlook for propane demand and prices
The US Energy Information Administration (or EIA), in its February "Short-Term Energy Outlook" report, forecasts that households in the Midwest this year will spend 35% less on propane than they did last winter. This is a result of prices being 27% lower than they were last winter. The EIA expects households in the Northeast to spend 23% less, as prices are 17% lower than they were last winter.