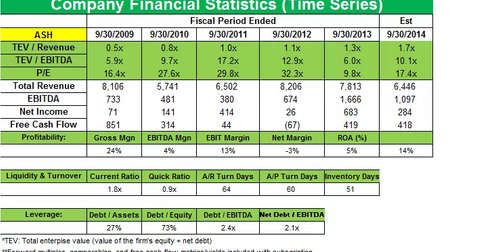 Omega Advisors increases position in Ashland
By Adam Rogers

Updated
Omega Advisors and Ashland
Omega Advisors has increased its position in Ashland (ASH) by over $69 million. The position now accounts for 1.74% of the fund's total 4Q14 portfolio, up from 0.55% in the third quarter. Ashland has a 0.08% exposure to the iShares Russell 1000 Value ETF (IWD). The ETF tracks the overall performance of 700 publicly traded "high value" companies.
Article continues below advertisement
Overview of Ashland
Covington-based Ashland is a global specialty chemical company that provides products, services, and solutions throughout a variety of industries in more than 100 countries. Ashland's products are used in a wide variety of markets and applications, including architectural coatings, automotive, construction, energy, food and beverage, personal care, pharmaceutical, and tissue and towel.
The company's business consists of three reportable segments:
Ashland Specialty Ingredients
Ashland Performance Materials
Ashland Consumer Markets
Ashland reports 1Q15 earnings
In January 2015, Ashland announced its results for 1Q15 and reported earnings from continuing operations of $40 million, or $0.57 per diluted share, on sales of nearly $1.4 billion. For 1Q14, Ashland reported income from continuing operations of $88 million, or $1.12 per diluted share, on sales of more than $1.4 billion. Sales decreased by over 3% mainly due to foreign exchange rates and divestitures, while the operating income grew by 24% to $177 million.
Article continues below advertisement
William A. Wulfsohn, the new CEO of Ashland, said, "In the first quarter of fiscal 2015, the Ashland team delivered strong results by executing the company's well-defined strategy with discipline. The Ashland team continued to critically assess its portfolio of assets and take action, as demonstrated by the divestiture of the elastomers division in early December. This sale, which enhanced Ashland's cash position, was consistent with the company's strategy of divesting lower-margin, non-core assets so that we can focus on higher-growth, higher-margin segments."
Ashland completes the sale of elastomers business to Lion Copolymer Holdings
In December 2014, Ashland had completed the previously announced sale of its Texas-based elastomers business to Lion Copolymer Holdings for an undisclosed sum. The business primarily served the replacement tire market in North America and accounted for nearly 18% of Ashland Performance Material's total sale of $1.6 billion in fiscal 2014.
Omega Advisors' holdings
The hedge fund started new positions in Time Warner (TWX) and Gilead Sciences (GILD), while it sold its positions in Sprint (S), Thermo Fisher Scientific (TMO), and Halliburton (HAL). Omega Advisors increased its position in Ashland (ASH) and Groupon (GRPN). The fund decreased its position in Chimera Investment Group (CIM), JP Morgan Chase (JPM), and Apple (AAPL).