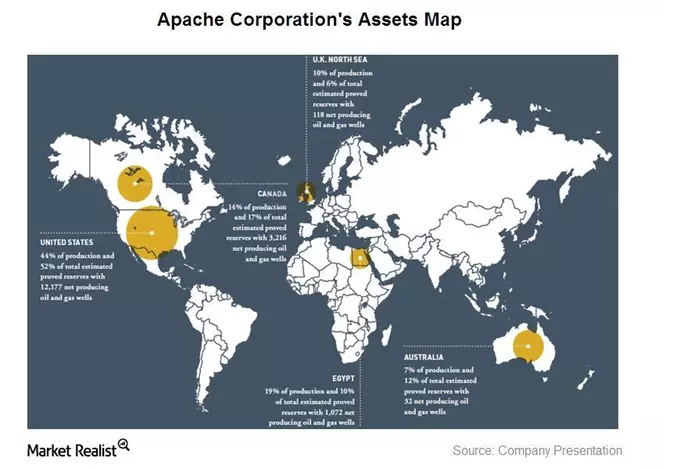 NYSTRS reduced its position in Apache Corporation
By Adam Rogers

Nov. 20 2020, Updated 12:03 p.m. ET
NYSTRS and Apache Corporation
The NYSTRS (New York State Teachers' Retirement System) started new position in Walgreen Boots Alliance (WBA). It increased its stakes in Kinder Morgan (KMI). The fund sold off positions in WellPoint Inc. (WLP). It decreased its positions in Occidental Petroleum (OXY) and Apache Corp. (APA).
The fund decreased its position in Apache Corporation from 0.20% in 3Q14 to 0.12% in 4Q14—according to the latest SEC (U.S. Securities and Exchange Commission) 13F filings.
Article continues below advertisement
Overview of the firm
Apache Corporation is an oil and gas exploration and production company. It has operations in the US and other international locations. Apache Corporation has a significant presence in the Eagle Ford and the Permian Basin in Texas. The company has operations in five countries—the US, Canada, Egypt, Australia, and the United Kingdom's North Sea.
Other energy producers in the Permian Basin and Eagle Ford include Laredo Petroleum (LPI), Chevron (CVX), and CONSOL Energy (CNX). All of these companies are part of the Energy Select Sector SPDR ETF (XLE).
Apache Corporation announced the sale of assets
In November 2014, Apache Corporation announced the sale of its oil and gas assets in Louisiana and the Anadarko Basin. Approximately 62% and 83% of the production from Louisiana and Anadarko is natural gas and natural gas liquids, or NGLs, respectively. The sale will be spread across two separate transactions. It's estimated that Apache Corporation will raise over $1.4 billion with respect to the sale.
In the last 20 months, Apache Corporation divested properties worth $10 billion.
Article continues below advertisement
Apache Corporation will sell stake in LNG projects
In December 2014, Apache Corporation announced that it will sell its interest in two liquefied natural gas, or LNG, projects—namely Wheatstone LNG and Kitimat LNG along with Woodside Petroleum Limited, the upstream oil and gas reserve—for ~$2.75 billion. Apache Corporation will also be reimbursed for its expenditure in the above mentioned LNG projects between June 30, 2014, and December 31, 2014. It will be ~$1 billion.
Apache Corporation's CEO, G. Steven Farris, announced that "This announcement marks the successful completion of one of our primary strategic goals of exiting the Wheatstone and Kitimat LNG projects. Apache recognizes the contribution of our employees who have worked so diligently on these projects since their inception, and we sincerely thank them for their tremendous effort. I would also like to thank Woodside's CEO and Managing Director, Peter Coleman, and his entire staff for their hard work and professionalism in bringing this transaction to a successful conclusion. I am proud of Apache's legacy in advancing the Wheatstone and Kitimat LNG projects, and I am confident that Woodside's participation will have a positive impact in seeing these world-class LNG facilities through to first production."
The proceeds from the sale will be used to reduce debt, repurchase shares, and pursue opportunities that will drive growth and profit.
For the latest updates, visit Market Realist's 13Fs page.