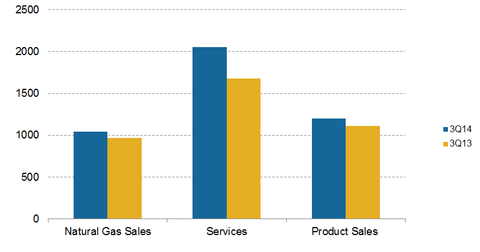 NYSTRS increased its position in Kinder Morgan
By Adam Rogers

Updated
NYSTRS and Kinder Morgan 
The NYSTRS (New York State Teachers' Retirement System) started a new position in Walgreen Boots Alliance (WBA). It increased its stakes in Kinder Morgan (KMI). The fund sold off positions in WellPoint Inc. (WLP). It decreased positions in Occidental Petroleum (OXY) and Apache Corp. (APA).
The fund increased its position in Kinder Morgan from 0.12% in 3Q14 to 0.31% in 4Q14—according to the latest SEC (U.S. Securities and Exchange Commission) 13F filings.
Overview of Kinder Morgan
Kinder Morgan is the largest energy infrastructure company in North America. It was founded in 1997. It's headquartered in Texas. The firm operates ~80,000 miles of pipelines and 180 terminals. The pipelines transport natural gas, refined petroleum products, crude oil, carbon dioxide, and other products.
As of mid-January 2015, Kinder Morgan had $17.6 billion in expansion and joint venture investments in its backlog with a high certainty of completion. These investments will drive the company's future growth across all of its business segments.
Long-term transportation and storage contracts
In December 2014, Kinder Morgan announced that it signed long-term—15-year—contracts for transportation and storage for its Corpus Christi Liquefaction project. According to the contract, Kinder Morgan will provide transportation service for 550,000 dekatherms per day, or Dth/d, of natural gas. It can be increased to 800,000 Dth/d after the expansion of its pipeline system in Texas.
Also, Kinder Morgan will provide storage services to accommodate 3 billion cubic feet, or Bcf, of natural gas in order to serve the Corpus Christi Liquefaction project.
Closing of merger transactions
In November 2014, Kinder Morgan announced that it completed the acquisition of outstanding equity shares of Kinder Morgan Energy Partners (KMP), Kinder Morgan Management (KMR), and El Paso Pipeline Partners (EPB) for ~$76 billion.
Richard Kinder, the chairman and CEO of Kinder Morgan, stated that "We are delighted to close the KMP, KMR and EPB transactions. We believe merging the companies benefits our shareholders and unit holders, simplifies the Kinder Morgan story by transitioning to one security and paves the way for superior growth at KMI for years to come. KMI projects a dividend of $2.00 per share for 2015, a 16 percent increase over the 2014 KMI dividend budget of $1.72 per share. The company expects to grow the dividend by approximately 10 percent each year from 2015 through 2020, while producing excess coverage of over $2 billion."
In the next part of this series, we'll explore NYSTRS's position in Occidental Petroleum.