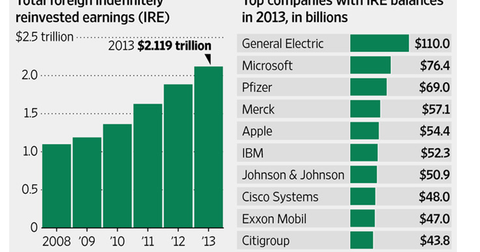 How new fiscal tax laws could influence Microsoft's prospects
By Anne Shields

Updated
Higher tax proposed for the overseas earnings
In the fiscal 2016 budget, Barack Obama proposed a one-time 14% tax on about $2.1 trillion in profit that leading companies like General Electric (GE), Microsoft (MSFT), Apple (AAPL), Pfizer (PFE), Merck (MRK), and other players have earned overseas, as the below presentation shows. Obama has also pushed for a 19% tax on US firms' future foreign profits.
The current corporate tax rate is 35%, one of the highest taxes among developed economies. However, companies have been avoiding it by relocating headquarters, as well as by other means. According to the White House, an estimated $238 billion raised from this one-time tax will fund repairs and road improvements, bridges, transit systems, and freight networks that would replenish the Highway Trust Fund as part of a $478 billion package.
Article continues below advertisement
Microsoft earnings took beating on account of dollar appreciation
In 2Q15, Microsoft posted revenue and non-GAAP (generally accepted accounting principles) earnings per share (or EPS) of $26.5 billion and $0.71 per share, respectively. As mentioned in the 2Q15 earnings series, Microsoft expects its revenues to decline by 4% in 3Q15 due to the strengthening of the dollar in 2014.
75% of Microsoft's earnings are parked outside of the US, which makes the company susceptible to currency fluctuations. However, if the proposed fiscal 2016 budget is approved, Microsoft will pay higher corporate tax.
If this tax structure gets approval from congress, then it along with continued weakness in the Chinese and Japanese markets and the fluctuating foreign exchange will impact Microsoft's earnings and growth prospects.