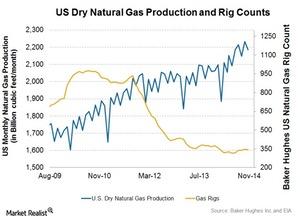 Natural gas production growth expected to continue
By Alex Chamberlin

Nov. 20 2020, Updated 3:35 p.m. ET
Natural gas production
Since mid-2011, natural gas production has increased even though the number of natural gas-targeted rigs has fallen.
The U.S. Energy Information Administration, or EIA—in its "Short-Term Energy Outlook," that was released in January 2015—reported that dry natural gas production is set to increase to 72.26 billion cubic feet, or Bcf, per day in 2015 and 73.94 Bcf per day in 2016. In 2014, the EIA expects the US to produce 70.11 Bcf per day of dry natural gas.
As a point of reference, the EIA reports natural gas production averaged an estimated ~69.3 billion Bcf per day during the first half of 2014. In a minor, short-term deviation from the rising trend, the US dry natural gas production declined 2% in November 2014 from October that same year.
In contrast, the number of natural gas rigs continues to decline over the past three years. From ~930 in October 2011, the count has come down to ~316 currently.
The EIA's preliminary data show that the rising production trend is set to continue into 1Q 2015. Higher production in the Marcellus, Eagle Ford, and Utica is driving the trend.
Article continues below advertisement
A counterintuitive trend
A number of factors combined to develop this trend. First, while companies have targeted oil because it's more profitable, most oil wells also have significant natural gas production. So, increased oil-targeted drilling contributed to higher levels of natural gas production.
Another contributing factor is the development of super-prolific areas like the Marcellus Shale. Wells in the best areas of these plays have extremely high natural gas production rates. They also have very low costs per unit of production. This makes drilling them profitable—even when gas prices are low.
Drilling efficiency
The third contributing factor to higher production is drilling efficiency, or increased production per rig. Technological advancements including horizontal drilling and pad drilling make it possible to drill more wells with fewer rigs. The multi-well pad drilling process enables operators to shorten cycle time by drilling multiple wells in tight clusters. This enables producers to increase production rates with the same or even fewer numbers of rigs.
Natural gas production per rig has increased most in the Marcellus, Utica, and the Haynesville shales over the past eight years. Were the number of gas-targeted rigs to actually start to rise, natural gas prices could come under even more pressure.
Natural gas prices affect drilling sentiment for major natural gas producers including Chesapeake Energy (CHK), Cabot Oil & Gas (COG), Devon Energy (DVN), and Southwestern Energy (SWN).
Many of these producers are also part of energy ETFs like the Energy Select SPDR ETF (XLE). CHK, SWN, and DVN together account for 3.4% of XLE.
There's more to learn more about the oil industry on Market Realist's Energy and Power page.