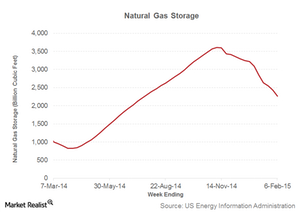 Natural gas draw-downs remain in line with expectations
By Mike Sonnenberg

Updated
Natural gas inventory
Commodity prices are a function of demand and supply. If demand increases while supply remains constant, prices increase because more customers are chasing each unit of the commodity. In contrast, if supply increases for a given level of demand, prices drop because the commodity is available in abundance.
The EIA (U.S. Energy Information Administration) publishes a weekly natural gas inventory and withdrawal report every Thursday. The report covers the week ending the previous Friday.
Article continues below advertisement
Natural gas inventory in line with expectations
Throughout the year, natural gas is stored underground in order to save the fuel for peak demand during the winter. For the week ending February 6, the inventory came in at 2,268 billion cubic feet, or Bcf. This was in line with analyst expectations. Natural gas draw-downs during the week came in at 160 Bcf, also in line with expectations.
In recent weeks, cooler weather has resulted in high draw-downs. In spite of this, the natural gas inventory level is higher than the 1,693 Bcf reported at this time last year. Note that the inventory was affected by unusually cold weather last winter. The current inventory remains higher than the five-year average of 2,221 Bcf.
Impact on coal
Despite the higher draw-downs in recent weeks resulting in lower leverage, natural gas prices fell. Weak natural gas prices aren't a good sign for coal producers (KOL), especially the ones with operations in the East and the Midwest, including Alpha Natural Resources (ANR), Arch Coal (ACI), and Peabody Energy (BTU).
With natural gas prices below $3 per British thermal unit in millions, or MMBtu, even PRB (Powder River Basin) producers like Cloud Peak Energy (CLD) are feeling the heat. PRB is the lowest-cost coal producing region in the US. Due to this lower  production cost, PRB coal has a better chance of competing against the shale gas revolution.
While inventory is a key indicator, it's also important to know how far inventory is being drawn down during the winter. A greater-than-expected draw-down generally means higher-than-expected demand. This could lead to a spike in natural gas prices. In contrast, if the natural gas draw-down were less than expected, it could signal oversupply. And, this could lead to a fall in natural gas prices.