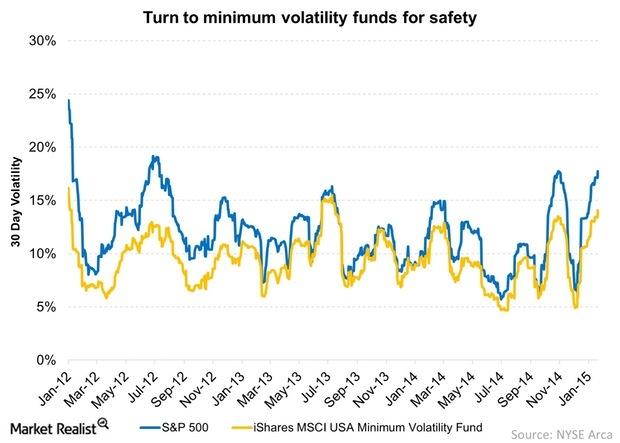 Minimum-Volatility Funds Provide Cushion During Downturns
By Amy Belew

Dec. 4 2020, Updated 10:52 a.m. ET
While these trends say a lot about the market environment investors faced in 2014, they also carry implications for 2015 – implications we should keep in mind as we head into next year. As my colleague Sara Shores points out in a recent Blog post, more investors are starting to utilize smart beta strategies, driven by a pursuit of tailored exposures not available via traditional market cap weighted funds. Specifically, we believe smart beta funds with a focus on minimum volatility will start to become even more popular as volatility has returned and is likely to persist in 2015.
Article continues below advertisement
Market Realist – Minimum-volatility funds provide cushion during high volatility.
The bull market for equities in the US (SPY)(IVV) is about to finish its sixth year. With the global economic uncertainty and bailout negotiations in Greece (GREK) still deadlocked, it is getting harder to justify stock valuations currently. In such a scenario, it is prudent to adopt a different strategy. Investing in minimum-volatility funds is one such strategy.
Minimum-volatility funds are designed to protect you from volatility (VXX). These funds invest in low beta stocks and sectors that weather periods of volatility.
The graph above compares the 30-day volatility for the S&P 500 and the iShares MSCI USA Minimum Volatility Fund (USMV). It's clear that the minimum volatility fund is less volatile than the index.
Along with minimum-volatility funds, high-dividend funds also provide cushion during market downturns. High-dividend funds even provide income from time to time.
You can consider these options while investing in emerging markets (EEM)(VWO) as well.
Read our series, Matt's master class: The 3 key elements of a bond ETF to learn more about investing in ETFs.