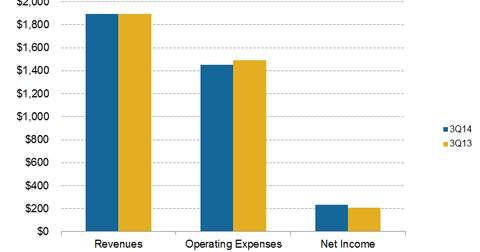 Millennium Management decreases position in Northeast Utilities
By Adam Rogers

Updated
Millennium Management and Northeast Utilities
Millennium Management's new positions in 3Q14 include St. Jude Medical (STJ) and Kimberly-Clark (KMB). The fund sold positions in Forest Laboratories (FRX) and Procter & Gamble (PG). Millennium increased its position in Kinder Morgan (KMI), Actavis plc (ACT), and American Express (AXP). Finally, it decreased its stake in Northeast Utilities (NU) and CVS Caremark (CVS).
The hedge fund decreased its position in Northeast Utilities, or NU, by $97 million.
Article continues below advertisement
About the company
Northeast Utilities, or NU, operates New England's largest utility system. It serves more than 3.6 million electric and natural gas customers in Connecticut, Massachusetts, and New Hampshire. NU is dedicated to this region, as well as to the people, energy, and technology so vital to its security, stability, and economic strength.
Northeast Utilities has six main subsidiaries:
Connecticut Light & Power
Eversource Energy – formerly PSNH
Western Massachusetts Electric Company
Yankee Gas Services Company
NSTAR Electric
NSTAR Gas
Northeast Utilities declares 3Q14 results
In November 2014, NU filed its 3Q14 results with the U.S. Securities and Exchange Commission, reporting a 12% rise in profits on a year-over-year basis due to lower operating costs and increased investments in large power transmission projects around New England. The company had revenue of $1.89 billion for the quarter compared to the consensus estimate of $1.91 billion.
The earnings were $237.6 million, or $0.75 per share, in 3Q14, compared with earnings of $216.5 million, or $0.69 per share, in 3Q13.
Article continues below advertisement
Northeast Utilities and Spectra Energy enter into a joint venture
NU and Spectra Energy have entered into a joint venture and formed a pact with an interstate natural gas pipeline owner—Iroquois Gas Transmission System—to strengthen natural gas supply services in New England states.
This project will provide reliable utility services to New England amid rising energy costs.
Warmer winters to negatively impact NU and other power companies
The National Oceanic and Atmospheric Administration expects a warm winter in the US in 2015. According to its report, the south central and southeastern US will experience below-average temperatures while the western US, Alaska, Hawaii, and New England will experience above-average temperatures this winter. Much of the central and eastern regions of the US is expected to experience average temperatures this winter. This is in stark contrast to the extremely cold winter in the US last year, which boosted electricity demand.
If the predictions turn out to be true, Northeast Utilities (NU) and Hawaiian Electric Industries (HE) will be adversely affected, as they have a major presence in the New England and Hawaiian regions, respectively.