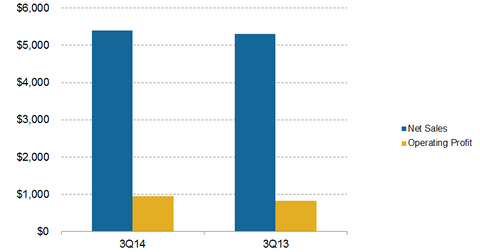 Millennium Management adds new position in Kimberly-Clark
By Adam Rogers

Updated
Millennium Management and Kimberly-Clark 
Millennium Management's new positions in 3Q14 include St. Jude Medical (STJ) and Kimberly-Clark (KMB). The fund sold positions in Forest Laboratories (FRX) and Procter & Gamble (PG). Millennium increased its position in Kinder Morgan (KMI), Actavis plc (ACT), and American Express (AXP). Finally, it decreased its stake in Northeast Utilities (NU) and CVS Caremark (CVS).
Millennium Management initiated a small position in Kimberly-Clark that accounts for 0.2% of the hedge fund's portfolio.
Article continues below advertisement
Overview of the company
Kimberly-Clark Corporation (KMB) is an American personal care company that produces mostly paper-based consumer products. The firm was founded in 1872 and is headquartered in Irving, Texas. It has over 42,000 employees. Its subsidiaries include Kimberley-Clark Health Care and Kimberly-Clark Professional.
Some highlights of the company are listed below:
42,500 employees working at manufacturing facilities in 37 countries
leading brands sold in more than 175 countries
more than 142 years in business
nearly one-quarter of the world's population purchase our products every day
$21.2 billion in sales in 2013
Kimberly-Clark announces 3Q14 results
In October 2014, Kimberly-Clark, or KMB, announced its 3Q14 results and reported net sales of $5.4 billion, an increase of 3% compared to 3Q13. Operating profit was $907 million in 3Q14, an increase of 10% over $807 million in 3Q13. Third-quarter adjusted earnings per share hit an all-time record $1.61 in 2014 compared to $1.44 a year ago.
Performance benefited from organic sales growth, cost savings, and a lower share count. Meanwhile, comparisons were negatively impacted by input-cost inflation, unfavorable foreign currency exchange rate effects, a higher adjusted effective tax rate and lower net income from equity companies.
In China, Russia, Eastern Europe, and Brazil, diaper sales saw double-digit growth in the last two quarters, and while KMB had to increase prices to beat cost inflation and currency fluctuations, the price hikes are not impacting overall demand.
KMB increases shareholder value, share price rises
The stock price of KMB has increased steadily since the 3Q14 results were announced. And, in November 2014, the stock reached an all-time high price of $116.78 with the announcement of a new share-buyback program.
The KMB board authorized a share re-purchase program for up to 40 million shares for $5 billion and is expected to be completed by the end of 1Q15. As well, KMB declared a regular quarterly dividend of 84 cents per share, paid on January 5, 2015, to shareholders as of December 5, 2014.
The next article in this series will explore Millennium Management's new position in Forest Laboratories (FRX).