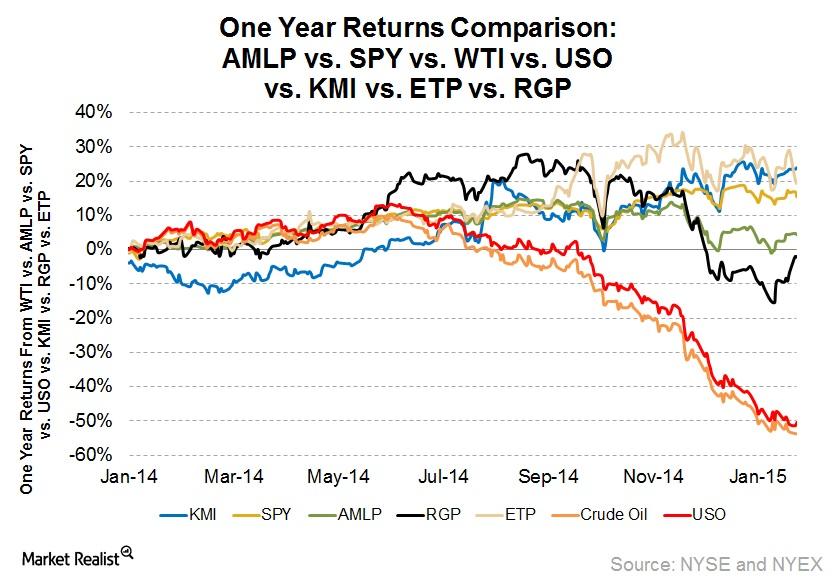 Midstream companies withstand falling energy prices, for now
By Alex Chamberlin

Nov. 20 2020, Updated 5:29 p.m. ET
Series overview
Falling energy prices—the crude oil price slump of the past six months, in particular—are reshaping the entire energy space in the US. The upstream sector may be bearing the initial brunt, but the midstream sector could soon start to feel the pinch as well.
In this series, we'll look at the evolving midstream energy dynamics. But before that, we'll describe what it is that midstream operators do and where they fit in the dynamic US energy sector.
Article continues below advertisement
The midstream flow
Companies in the midstream sector don't have direct exposure to falling energy prices. At least, not in the immediate term.
Most midstream companies generate revenue from fees that customers pay to use their pipelines, processing plants, and storage capacity. Many of them establish long-term contracts with clients based on volume. These contracts are fee-based agreements that generate steady cash flow for a considerable period of time.
In the short term then, the effect of crude oil prices falling is minimal for midstream players. If crude oil prices stay depressed for a long time, volumes will decline and contract terms will expire. As a result, revenues and profits will suffer.
Some contracts are different. Percentage-of-proceeds and keep-whole contracts may influence revenues and profits in the short term. How a midstream companies is affected by short-term commodity price movement depends to some extent on the nature of the contracts. For more on this subject, read Natural gas processing contracts and how they affect profits and valuation.
Article continues below advertisement
Midstream linkages to upstream as prices fall
Upstream companies reduce volumes in response to uneconomic production conditions. This happens more frequently in the fringe areas, also called the non-core areas, where the cost of production is high. Meanwhile, core resource areas can absorb deeper price cuts because of lower production costs.
The midstream defense
The graph above illustrates the midstream sector's resilience to falling oil prices. In the past year, returns from West Texas Intermediate, or WTI, crude oil price was -53%. The United States Oil Fund (USO), the ETF that tracks the changes in the price of light, sweet crude oil also returned -50% in the past year.
In comparison, the Alerian MLP ETF (ALMP), which tracks US midstream MLPs, returned -4%. Energy Transfer Partners (ETP) and Kinder Morgan Energy (KMI) outperformed AMLP. These two respectively returned ~19% and ~24% in the past year. Regency Energy Partners (RGP), meanwhile, underperformed the industry ETF. The SPDR S&P 500 ETF Trust (SPY), the ETF that tracks the broader market index, produced a ~15% return during this period.
In the following sections of this series, we'll discuss various aspects of midstream mergers under falling energy price conditions. We'll also discuss two recent midstream asset acquisitions and business consolidations.