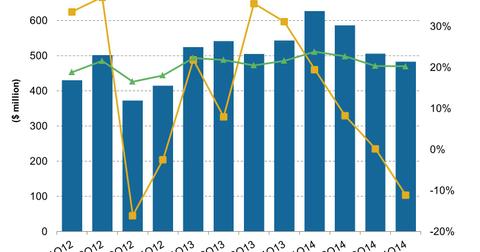 MGM's earnings plunged, but domestic operations set a record
By Shawn Bolton

Updated
Adjusted EBITDA
Adjusted EBITDA (earnings before interest, tax, depreciation, and amortization) is one of the most important performance metrics. It's used to gauge how casino properties are performing. MGM (MGM) reports adjusted property EBITDA for its wholly owned domestic properties.
Adjusted property EBITDA is also used by casino companies like Las Vegas Sands (LVS), Wynn Resorts (WYNN), and Melco Crown Entertainment (MPEL). However, it may not be directly comparable across companies due to company-specific adjustments.
Investors could hold a diversified portfolio in leisure companies by investing in ETFs like the Consumer Discretionary Select Sector SPDR Fund (XLY) and the VanEck Vectors Gaming ETF (BJK). MGM comprises ~5% of BJK.
MGM's adjusted EBITDA fell by 11.1% year-over-year, or YoY, to $482.9 million. MGM's adjusted EBITDA fell 22.1% YoY in China. This was partially offset by a 4.8% YoY increase in adjusted property EBITDA from its wholly owned domestic resorts.
MGM derives one-third of its revenue from China. It witnessed a significant decline in revenue and earnings due to a lack of VIP participation. The lack of participation was due to China's crackdown on corrupt officials.
Article continues below advertisement
MGM's City Center earned adjusted EBITDA related to resort operations. It experienced a 16% YoY decline—mainly due to a decrease in table games' hold percentage at ARIA. It should also be noted that MGM China's adjusted EBITDA margin increased by ten basis points—compared to the same quarter last year—to 25.8% due to an increase in main floor table games' mix.
For full-year 2014, MGM's adjusted EBITDA increased 4.1% YoY to $2.2 billion. Adjusted EBITDA from wholly owned domestic resorts increased 5.2% to $1.5 billion for 2014. MGM China's adjusted EBITDA was $850 million—up 4.5% YoY.
Key takeaways from 4Q14 earnings call
James J. Murren, MGM's chairman and CEO, said, "Our U.S. wholly-owned operations achieved its best EBITDA cash flow in six years. Last year, City Center's cash flow from resort operations was a new record. And at MGM China, even though it's a challenging market, we also had a recor with very solid fourth quarter results. Our wholly owned domestic resorts reported its best fourth quarter since 2007. Quarterly revenues and cash flow both grew 5% year-over-year driven by our strip property growth."