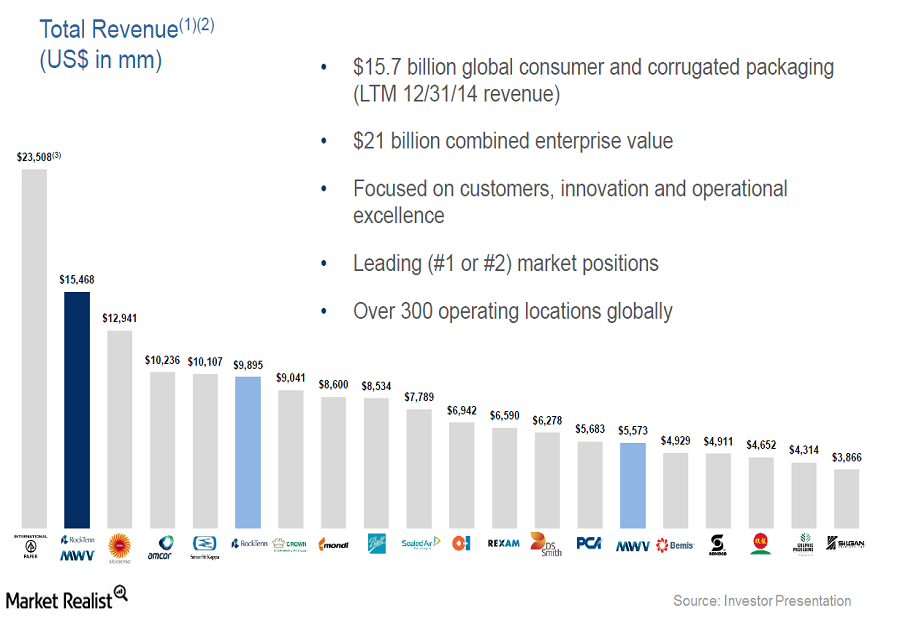 MeadWestvaco-RockTenn merger: Changing the packaging landscape
By Santiago Solari

Feb. 10 2015, Updated 2:05 p.m. ET
Between the devil and the deep blue sea
According to intelligence leader IBISWorld, the global packaging industry is valued at approximately $464 billion in terms of sales.
Managing input costs and successfully being able to pass on price inflation to customers is one of the keys to attaining competitive advantage in this industry.
Feedstock companies provide inputs for production to packaging firms. They have the ability to mark up the prices when there is a supply constraint. On the buy side, you have big brand consumer goods companies that are reluctant to pass on price increases to end users. Since industry operators, packaging companies, are in the business of converting paper, paperboard, and polymers into value-added packaging material, they fall between suppliers and buyers in the value chain.
The industry is fragmented, and no single firm dominates the marketplace. As a result, companies with large financial resources and access to capital markets tend to perform better. That's because they have the capacity to procure raw materials in bulk and potentially negotiate a discount.
Article continues below advertisement
Developing markets are likely to drive future growth
While demographic variables play an important role, industry demand is principally driven by the overall economy. In recent years, demand from mature Western economies has been adversely impacted due to falling industrial production. However, this has been more than offset by performances of India, China, Brazil, and other emerging markets.
Close to about 30% of industry demand comes from emerging markets. Looking ahead, the consumption of packaged goods is poised to increase rapidly in developing nations due to the swelling numbers in the middle class.
Merger will create a heavyweight
If the merger between RockTenn (RKT) and MeadWestvaco (MWV) goes through, it would create a $16 billion industry powerhouse that would rank only behind International Paper (IP) which has sales of $23.5 billion. The consolidation makes sense at this stage. Both companies have considerable presence in slow-growing markets, and a merger is a great way to get around that.
MeadWestvaco (MWV) accounts for 1.08% of the Vanguard Materials ETF (VAW). This ETF also holds positions in International Paper (IP), RockTenn (RKT), Packaging Corporation Of America (PKG), and Graphic Packaging Company (GPK) which account for 2.77%, 1.19%, 0.97%, and 0.60% of the portfolio, respectively.