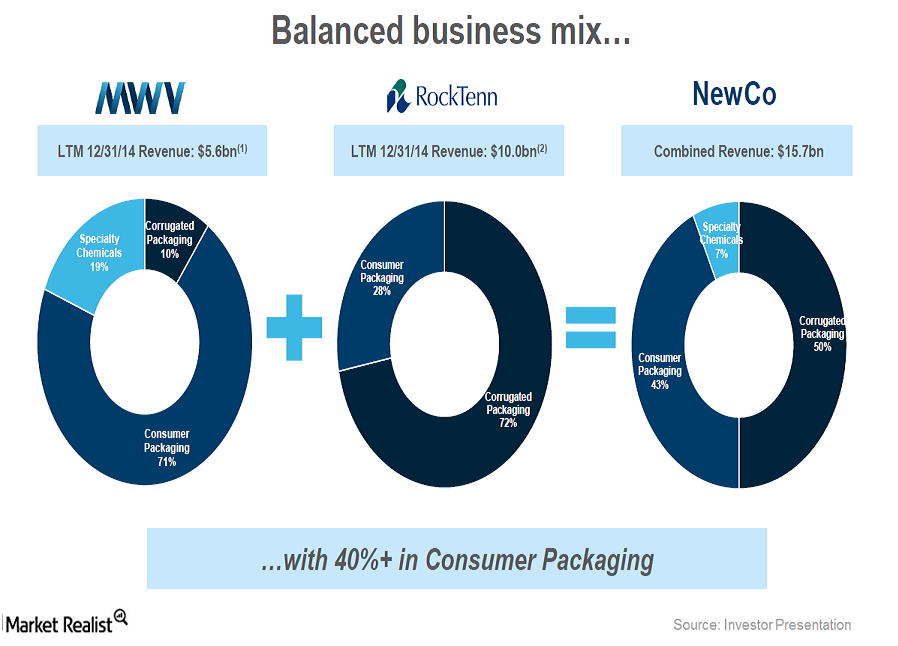 MeadWestvaco and RockTenn: The making of a packaging giant
By Santiago Solari

Feb. 10 2015, Updated 6:05 p.m. ET
A big win for Starboard Value
Within a month of announcing it would spin off its specialty chemicals division, MeadWestvaco (MWV) and RockTenn (RKT) agreed to merge. This is seen as a big win for activist hedge fund Starboard Value, which had pushed for the spin-off and a possible merger since June of last year. With a 6.1% stake in MeadWestvaco, or MWV, Starboard Value is its fifth-biggest shareholder, according to Standard & Poor's Capital IQ.
Article continues below advertisement
Transaction details
Under the terms of the deal, MWV stockholders will receive 0.78 shares in the combined firm for each MWV share. RockTenn shareholders have the option to receive either one share for every share they own, or cash in an amount equal to the volume weighted average price of RockTenn common stock during a five-day period ending three days prior to the closing of the deal.
The catch is that the stock and cash portions will be prorated. The ownership structure upon deal completion will be approximately 50.1% MWV and 49.9% RockTenn. And, based on the number of shares outstanding as of the announcement date, ~7% of RockTenn's shareholders will receive cash in lieu of stock at the closing date.
The new ownership structure has been arranged to facilitate the tax free spin-off of the specialty chemicals business. The deal is set to close by 2Q15.
Rationale
If everything remains constant, the combined entity would have revenues of $15.7 billion and an EBITDA (earnings before interest, taxes, depreciation, and amortization) of $2.9 billion. It would overtake Stora Enso to become the second-largest player in the packaging industry.
The deal would also balance the business mix. MWV, 78% focused on consumer packaging, and RockTenn, 72% involved with corrugated packaging, would then have a balanced product mix divided almost evenly between corrugated and consumer packaging.
The merger is also expected to bring about an incremental $300 million in cost synergies to be realized over three years. The main synergies will be found in product sourcing improvements, mill optimization and plant conversion, and the reduction of infrastructure and corporate costs.
The combined entity would have a leverage ratio (net debt to EBITDA) of 1.75x. It would have adequate headroom to expand its leverage to ~2.25x without affecting its investment-grade rating of BBB–Baa3. In a nutshell, the two companies have complementary businesses and would emerge from the merger with a healthy balance sheet.
MeadWestvaco (MWV) accounts for 1.08% of the Vanguard Materials ETF (VAW). This ETF also holds positions in International Paper (IP), RockTenn (RKT), Packaging Corporation Of America (PKG), and Graphic Packaging Company (GPK).