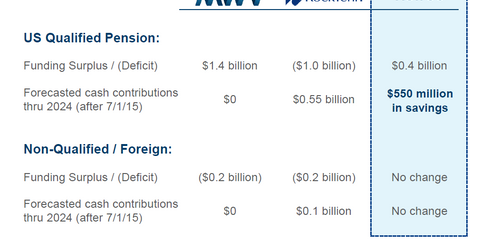 MeadWestvaco overfunds pension plan – RockTenn benefits
By Santiago Solari

Updated
To merge or not to merge
In the previous parts of this series, we looked at the transaction details of the merger between RockTenn (RKT) and MeadWestvaco (MWV). Here, we'll take a look at how pension-cost savings was a driver in this merger.
Article continues below advertisement
Overview of defined benefit plans
With 401(k) plans, the employer contribution amount is defined with regular periodic payouts, and investment risk is borne by the employee. In a defined benefit plan, the future obligation is estimated using the plan's formula and the employer gets to bear the investment risk.
In order to be in a position to service these liabilities in the future, companies fund these plans in advance by contributing to a trust. Then they try to achieve capital preservation until the payout date. A company reports the net of its plan assets held by the trust and the actuarial value of its liabilities on its books.
Significant reduction in pension costs for RockTenn
Both MWV and RKT maintain defined benefit plans and post-retirement health insurance benefits for its US employees and certain non-US employees. According to the latest actuarial estimations, MWV pension plans were overfunded with a surplus of $1.4 billion. In contrast, RKT's pension plans and other retirement obligations were underfunded by ~$1.0 billion.
In order for RKT to cover this deficit, an annual cash contribution of $550 million was required through 2024. But, combining the overfunded and underfunded plans through this merger, RKT, as part of the combined firm, will save $550 million over the next ten years. It's pretty evident that this was one of the key motivations to merge, as the deal creates instant value.
Legal soup
A few days after the merger was announced, the law office of Brodsky & Smith, LLC announced it had initiated investigations on potential claims made against the Board of MeadWestvaco. The claims relate to possible breaches of fiduciary duty and state law violations linked to the merger with RockTenn. The investigation concerns whether the MWV board failed in its due diligence before agreeing to the transaction. It also concerns whether the exchange ratio undervalues MWV given its strong financial results.
MeadWestvaco (MWV) is part of the Vanguard Materials ETF (VAW) and accounts for 1.08% of the ETF. The ETF also holds positions in International Paper (IP), RockTenn (RKT), Packaging Corporation Of America (PKG), and Graphic Packaging Company (GPK).