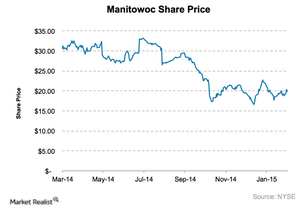 Manitowoc to spin off after activist pressure
Manitowoc to split
Manitowoc Company (MTW) announced that it will split its cranes and foodservice businesses in its 8K filing with the SEC (Securities and Exchange Commission) on January 29. The announcement came one month after Carl Icahn disclosed a 7.77% stake in Manitowoc and expressed his intentions to push Manitowoc to break itself into two separate companies.
In June, Activist investor Relational Investors who owns 8.5% stake in Manitowoc also started pushing the company to separate its foodservice business from its cranes business. The two activist investors faced opposition from Manitowoc CEO Glen Tellock. But he eventually noted that, "the Cranes and Foodservice businesses are best-suited to realize their full potential on a standalone basis."
Manitowoc's board of directors approved the separation of the company's cranes and foodservice businesses into two independent, publicly traded companies. The company expects a tax-free spin-off of its foodservice business. The company expects to complete the spin-off in the first quarter of 2016.
The market reacted favorably to the announcement of the split. Shares of MTW rose 8.4% in aftermarket trading and then dropped 3% by closing. The company's shares were down 10.3% year-to-date (or YTD).
Article continues below advertisement
Recent spin-offs
Recently, spin-offs have been gaining momentum. In September 2014, eBay (EBAY) spun off its PayPal business after Icahn started calling for eBay to split. In October 2014, Hewlett-Packard (HP) also announced that it would separate its businesses into two. B/E Aerospace Inc. (BEAV) completed a spin-off of its consumable management segment to form KLX Inc. (KLXI), as well.
You can gain exposure to spin-offs by investing in the Guggenheim Spin-Off ETF (CSD). This ETF tracks companies that have spun off within the past 30 months.
In the coming parts of this series, we'll discuss Manitowoc and its businesses in more detail.