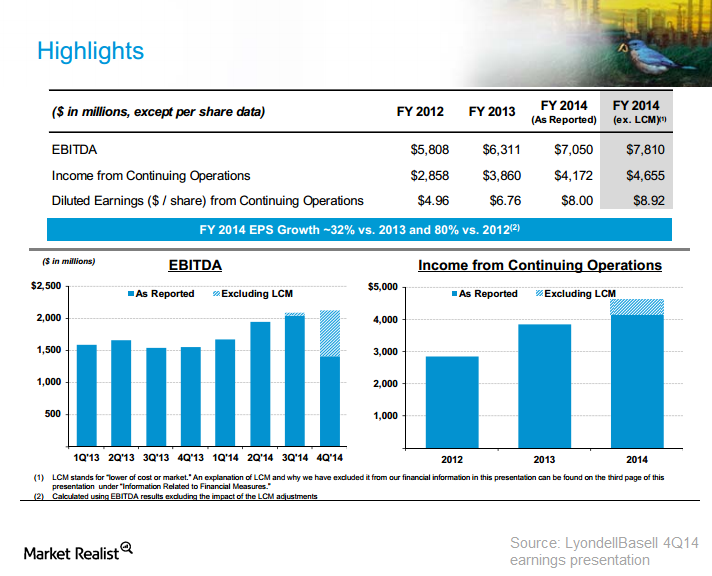 LyondellBasell is a brand new position in Soros' 4Q portfolio
By Samantha Nielson

Feb. 20 2015, Updated 11:06 a.m. ET
Soros adds LyondellBasell to its portfolio
Article continues below advertisement
Overview of LyondellBasell
Netherlands-based LyondellBasell, which came out of chapter 11 bankruptcy in 2010, is one of the world's top five independent chemical companies based on revenues.
LyondellBasell is a leading worldwide producer of olefins, including ethylene and propylene, and polyethylene. The company is the world's largest producer of polypropylene (or PP) and PP compounds. The company has five operating segments:
The O&P-America segment produces and markets olefins, polyolefins, aromatics, specialty products, and ethylene co-products, in addition to specialty products like Catalloy and Plexar resins.
The O&P-EAI (Europe, Asia, International) segment produces and markets olefins (ethylene and ethylene co-products) and polyolefins.
The Intermediates and Derivatives (or I&D) segment produces and markets propylene oxide and its co-products and derivatives, acetyls, including methanol, ethanol, ethylene oxide and its derivatives, and oxygenated fuels, or oxyfuels.
The Refining segment refines heavy, high-sulfur crude oil and other crude oils of varied types and sources available on the US Gulf Coast.
The Technology segment develops and licenses chemical and polyolefin process technologies and manufactures and sells polyolefin catalysts.
Article continues below advertisement
LyondellBasell sees a management change
LyondellBasell appointed Bhavesh V. "Bob" Patel as chief executive officer, effective January 12, 2015. Patel succeeded James L. Gallogly, who had announced his plan to retire.
LyondellBasell's 4Q profit hit by inventory charge
The company's 4Q14 net profit dropped to $791 million, or $1.54 per share, from $1.18 billion or $2.11 per share in the prior-year quarter. Sales and other operating revenues fell to $10.29 billion from $11.14 billion. The quarter included a $715 million non-cash, pre-tax charge for the impact of a lower of cost or market (or LCM) inventory adjustment, which was $455 million after tax.
LyondellBasell noted in its annual report that it posted "record earnings in 2014 despite the impact of a significant lower of cost or market inventory valuation charge necessitated by the decline in crude oil and correlated product prices in the latter part of the year." Management said, "While we anticipate that margins will ease from the records of 2014 as crude oil prices decline, our positions remain advantaged."
For the full year, revenues increased by 4% to $45.608 billion compared to 2013.
Article continues below advertisement
Expansion projects and capital allocation updates
The company also updated its expansion plans at its Channelview, Texas facility and at its La Porte, Texas facility. It is also developing two new growth projects at its Channelview facility.
The management noted, "Share repurchases and dividends totaled approximately $7.2 billion. Since mid-2013, the company repurchased approximately 91 million shares, or around 16% of the outstanding shares."
Soros' top position updates in 4Q14
Soros Fund Management added new positions in Netherlands-based LyondellBasell (LYB), Endo International (ENDP), LendingClub (LC), and Allergan (AGN). The fund exited its positions in Intel (INTC) and Apple (AAPL). The fund continued to be bullish on Dow Chemical (DOW), Spansion (CODE), and United Continental Holdings (UAL).
In the next part of this series, we'll highlight the fund's new position in Endo International.